"Summit In Vietnam…"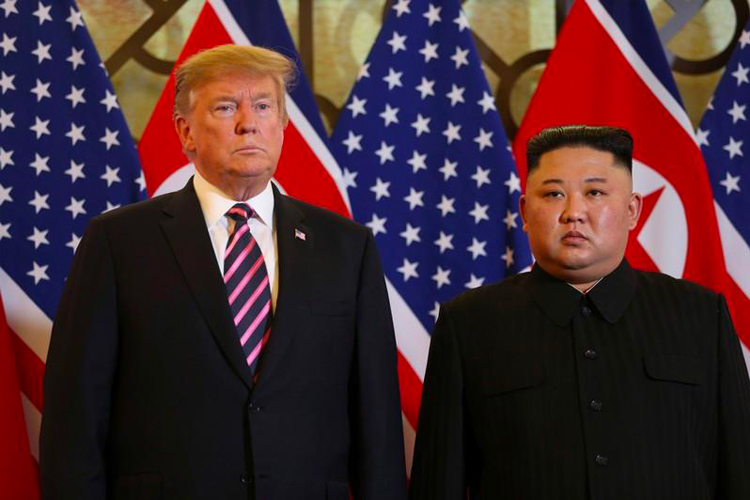 Summit In Vietnam
North Korean Leader Kim Jong Un arrived in Vietnam on Tuesday for a summit with US President Donald Trump.  The aim of the summit was to denuclearise the Korean peninsula.   The summit however ended earlier with US President Trump walking away.  Trump said the summit ended without a deal because the two differed on sanctions.  In a news conference Trump said, "it was all about the sanctions."  On Thursday Trump said he walked away from a nuclear deal because of unacceptable demands from the North Korean leader to lift punishing US-led sanctions.  Trump added that the talks had made good progress in building relations and on the key issue of denuclearisation, but it was important not to rush into a bad deal.  The United Nations and the United States ratcheted up sanctions on North Korea when the latter undertook a series of nuclear and ballistic missile tests in 2017, cutting off its main sources hard cash.
News From The FED
Fed Charmain Jerome Powell told US lawmakers on Tuesday that the Federal Reserve is in 'no rush to make a judgement" about further changes to interest rates.  In two hours of testimony to the Senate Banking Committee, Powell elaborated on the "conflicting signals" the FED has tried to decipher in recent weeks, including disappointing retail sales and other aspects of the economy that contrast with steady hiring, wage growth and ongoing unemployment.  He further added that, "the baseline outlook is a good one" but slower growth overseas is a drag on the US economy that "we may feel more of" in the coming months.  Powell's comments confirms the policy shift taken by the FED last month where it indicated it would pause a three-year cycle of rate hikes, that was projected to run into 2020, until a change in inflation or growth dynamics happens.   He also told lawmakers that the FED expected the US economy to grow solidly but at a slower pace this year than the estimated 3 percent growth for 2018.  This outlook was built in the central bank's policy statement in January.
Trump Delays Tariff Hike On Chinese Goods
President Donald Trump on Sunday said he would delay an increase in US tariffs on Chinese goods as trade talks were productive, and he and Chinese President Xi Jinping would meet to seal a deal if progress continued.  This was a clear sign so far that China and the United States are closing in on a deal to end months of trade war that had an impact on growth internationally and disrupted markets. Trump planned to raise tariffs to 25 percent from 10 percent on $200 billion worth of Chinese imports into the United States if an agreement between the two countries was not reached by Friday.  After a week of talks which were extended into the weekend, Trump said that for now those tariffs will not go up.  He said that progress has been made in areas including intellectual property protection, technology transfers, agriculture, services and currency.  The president did not set a new deadline for talks to conclude, but he told US state governors gathered at the White House, that there could be "very big news over the next week or two" if all went well in the negotiations.  The White House did not provide specific details on the kind of progress that had been made.  Meanwhile, US Trade Representative Robert Lighthizer cautioned that much work was still needed to nail down a US-China trade agreement, including working out how it will be enforced.  Meanwhile on Thursday, President Trump warned that he could walk away from a trade deal with China if it were not good enough.
US Economic Growth
The US economy slowed less than expected in the fourth quarter, leaving the growth for 2018 just shy of the Trump administration's 3 percent annual target.  Factors contributing to this were solid consumer and business spending.  The gross domestic product (GDP) report issued by the Commerce Department, offered the latest assessment of the impact of President Donald Trump's economic policies, including deregulation, tax cuts, increased government spending and tariffs aimed at securing more favourable trade deals.  Gross domestic product increased at 2.6 percent annualised rate in the fourth quarter after expanding at a 3.4 percent pace in the July-September period.  The economy grew 2.9 percent in 2018, the best performance since 2015 and better than the 2.2 percent in 2017.  The Commerce Department said that the fourth-quarter GDP growth estimate was "based on source data that are incomplete or subject to further revision by the source agency."
China's Factory Activity
Factory activity in China contracted to a three-year low in February as export orders fell at the fastest pace since the global financial crisis.  This highlights deep issues in an economy that is facing week demand at home and abroad.  Despite the government efforts and stimulus to spur activity, there are growing concerns that China may be at risk of a sharper slowdown if trade talks between China and the US fail to unease the pressure.  The official Purchasing Managers' Index (PMI) fell to 49.2 in February (January: 49.5) pointing to a contraction in activity for the third straight month data released from the National Bureau of Statistics (NBS) showed on Thursday.  The 50 mark separates growth from contraction on a monthly basis.
Bond Yields And Inflation In the Eurozone
The 10 year German benchmark bond yield declined from three-week highs on Thursday, as focus turned to inflation numbers which show a pick-up in inflation from the Eurozone's biggest economies.  After falling to more than two-year lows below 0.1 percent in February, German bond yields rose sharply on Wednesday as fears of a no-deal Brexit resulted in a sell-off in British gilts that spilled over into other safe-haven bond markets.  Inflation data from the Germany states, released ahead of the nationwide number later this session also suggested a pick-up in price pressures this month.  Meanwhile according to preliminary EU-harmonised data released on Thursday, French inflation picked up slightly in February, although not as much as expected.  French inflation rose 1.5 percent from a year earlier, compared with 1.4 percent in January.  Spanish consumer price inflation rose by 1.1 percent year-on-year in February, rising for the first time since September as fuel costs increased, while annual inflation in Italy accelerated to 1.2 percent from 0.9 percent in January.
Brexit
As Theresa May offered lawmakers the chance to vote on delaying Brexit the pound surged to a 21 month high against the euro.  May opened the possibility of avoiding a chaotic no-deal departure from the EU.  The pound jumped 1.4 percent against the dollar to a five-month high of $1.3284 and headed for its biggest daily gain against the euro in nearly two years.  Whilst speaking to parliament, Theresa May told lawmakers they could vote on 14th March on a motion requesting a "short, limited extension" to the scheduled 29th March if on 12th March, they rejected the Brexit deal she reached with Brussels.
Fitch Affirms Italy's Credit Rating
After ratings agency Fitch affirmed Italy's credit rating at BBB, Italian government bonds outperformed the broader euro zone bond market on Monday ralling up to 11 basis points.    The rally in Italian government bond yields reverses a sell-off on Friday ahead of the review by Fitch.  Italy's 10 year government bond yield was down 11 basis points in early trade to 2.74 percent pushing its spread over higher rated Germany to a three-week low.  The two year government bond yield was last down seven basis points to 0.45 percent on the day while its five-year down 10 basis points to 1.74 percent.
Italian Yields
Italian government bond yields climbed sharply on Wednesday, pushed higher by disappointing economic data, a debt auction and criticism from the European Commission over the state of Italy's economy.  After an initial dip in early trade, Italian government bond yields rose up to 12 basis points across the curve.  Morale among Italian manufacturers dropped to its lowest level in almost three years and consumer sentiment also declined in February after the economy dipped into recession at the end of last year.  Meanwhile, the European Commission said Italy's economy was facing excessive imbalances and policies of its government were making matters worse and posing threat to other Eurozone countries.
Oil
In the latest series of tweets by Donald Trump about oil prices since April 2018, on Monday, he wrote, "oil prices getting too high.  OPEC, please relax and take it easy.  World cannot take a price hike-fragile!"  Meanwhile, OPEC and its allies will stick with their agreement to cut oil supply, pushing for more adherence despite Trump's demand.  OPEC and alliance will meet in April to decide its output policy.  Following the tweet, oil prices registered their largest daily percentage drop this year, with Brent crude losing 3.5 percent on Monday while it edged up on Tuesday.  OPEC, Russia and other non-OPEC producers agreed in December to reduce supply by 1.2 million barrels per day from 1st January for six months.  A committee set up to monitor adherence to the deal, found compliance at 83 percent in January according to OPEC sources. Meanwhile, US sanctions on the oil sector have helped support oil prices recently and there were questions as to whether Saudi Arabia which is a top exporter will raise the output to fill the gap.  The Gulf OPEC source said there was no clear data on Venezuela's crude output decline to sanctions.  On Wednesday oil rallied for a second day buoyed by an unexpected decline in US crude inventories whilst Saudi Arabia was not intimidated by Trump's pressure on OPEC to prevent steeper price rises.
Markets Wrap

On Monday a surge in Shanghai shares led Asia into higher territory after the confirmation from US President Donald Trump that he would delay a planned hike in tariffs on Chinese imports as talks between the two sides made substantial progress.  Chinese blue chips (.CSI300) jumped 3.5 percent bringing gains to 20 percent, helped in part by Beijing's efforts to pump new credit into the financial system.  Japan's Nikkei climbed 0.5 percent to levels last seen in Mid-December.  Meanwhile, Asian shares and Wall Street stock futures turned negative on Wednesday after Pakistan said it shot down two Indian jets in its territory.  Investors switched from riskier into more conservative assets such as the yen.  The news also weighed on European markets, with the futures for London's FTSE and those for Frankfurt's DAX both dropping down 0.4 percent.    Global trade tensions and the early end to a US-North Korean summit in Hanoi weighed on global stock markets, supporting demand for safer assets.  The Swiss franc rallied by half a percent against the dollar on Thursday amid Chinese factory data and the lack of progress at US-China trade talks encouraged traders to take profits.  The British pound also saw profit-taking but is still on track to lead gains against the dollar in February as fears about a no-deal Brexit fade away.  Sentiment was also effected by the comment made by US Trade Representative Robert Lighthizer's that it was too early to predict an outcome in trade talks between Washington and Beijing. On Thursday global stocks and currencies fell as investors reduced their optimism over hopes of a US-China trade deal which faded and an unsatisfactory end to the US-North Korea summit. The weak economic data out of China also hit sentiment.   The Japanese Yen and the Swiss franc which are both safe-haven currencies gained after the United States and North Korea failed to reach an agreement.  Risky assets took a hit with stocks across the board lower in Europe after the start of trading.  On Friday Asian shares edged up after index publisher MSCI announced it would raise the weight of Chinese mainland shares in its global benchmarks.   Meanwhile, strong US economic data lifted the dollar.
Malta:  Industrial Producer Price Indices – January 2019
During January 2019 the industrial producer price index registered an increase of 3.64 percent when compared to the same month of 2018.  Factors that contributed to the increase were a rise of 8.41 per cent in intermediate goods, 0.96 per cent in consumer goods and 0.19 percent in capital goods.  There were no price changes registered within the energy sector.  Meanwhile, in January 2019, the producer price index for total industry registered a decrease of 0.07 per cent over the previous month.  This was due to a price drop of 0.18 percent within the intermediate goods.  There were no changes within the energy, capital and consumer goods sectors.
Malta:  Retail Price Index – January 2019
In January 2019, the annual rate of inflation as measured by the Retail Price Index (RPI) was 1.49 percent, the same rate as in December 2018.  The largest upward impact on annual inflation was recorded in the Food Index, while the largest downward impact was recorded in the Clothing and Footwear Index.  The Retail Price Index measures monthly price changes in the cost of purchasing a representative basket of consumer goods and services and is closely linked with the cost of living adjustment (COLA) increases and periodic rent payment adjustments.
'The information provided on this website is being provided solely for educational and informational purposes and should not be constituted as investment advice, advice concerning investments or investment decisions, or tax or legal advice. Similarly, any views or options expressed on this website are not intended and should not be construed as being investment, tax or legal advice or recommendations. Investment advice should always be based on the circumstances of the person whom it is directed, which circumstances have not been taken into consideration by the persons expressing the views or opinions appearing on this website. Timberland Securities Investment plc has not verified and consequently neither warrants the accuracy nor the veracity of any information, views or opinions appearing on this website. You should always take professional investment advice in connection with, or independently research and verify, any information that you find or views or opinions which you read on our website and wish to rely upon, whether for the purpose of making and an investment decision or otherwise. Timberland Securities Investment plc does not accept liability for losses suffered by persons as a result of information, views of opinions appearing on this website. This website is owned and operated by Timberland Securities Investment plc (reg. No. C68856) of Aragon House Business Centre, Dragonara Road, St Julian's STJ 3140.'