"Extension To 31st October …"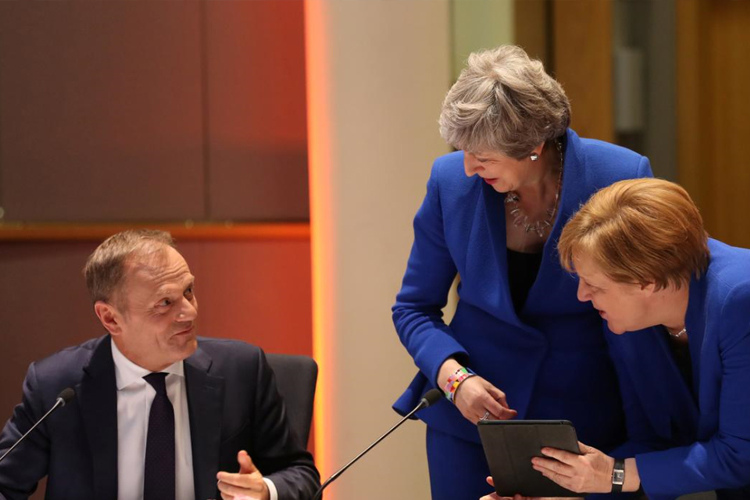 Extension To 31st October
A deadline of 31st October was given to Britain to leave, with a deal or no deal, on the condition that May holds an election on 23rd May, to return British members to a new European Parliament that convenes in July and that it pledges not to disrupt key EU decision making before it leaves.  The six months extension given by the European leaders to leave the EU is less than many in the EU wanted, thanks to firm resistance from France.  The summit deal in Brussels on Thursday in the early hours meant that Britain will not crash out on Friday 12th April without a treaty to smooth its passage.  On Thursday the head of the International Monetary Fund said that the six-month delay of Britain exit from the EU avoids the "terrible outcome" of a "no-deal" Brexit that would further pressure a slowing global economy but does nothing to lift uncertainty over the final outcome.
Germany's Weak Trade Data
Both German exports and imports fell more than expected in February, data showed on Monday.  This is the latest signal that Germany is likely to post modest growth in the first quarter.  German exporters are suffering from a slowing world economy, trade dispute and the uncertainty over Brexit.  According to the Federal Statistics Office, the seasonally adjusted exports were down by 1.3 percent on the month which is the biggest drop in 12 months, while imports dropped by 1.6 percent.  The trade surplus edged up to 18.7 billion euros from revised 18.6 billion euros the previous month.  In 2018 Germany posted its weakest growth rate in five years.  The German government will update its growth forecast later this month.  In January, Berlin said it expected the economy to growth by 1 percent this year.
Italy
Rome's austerity government admitted late on Tuesday its economy will barely grow this year, a retraction from the earlier optimistic forecast of 1 percent growth.  This will lift Italy's deficit to 2.4 percent of gross domestic product in 2019, away from the promise to keep it around 2 percent, while public debt will hit a record high.  Next autumn the government has to propose a new budget law.  Stagnation will make it harder for Italy not to raise sales taxes in 2020 while keeping debt under control and also delivering a promise to cut income tax.
European Central Bank Meeting And President Mario Draghi
As was expected, on Wednesday the European Central Bank kept its monetary policy unchanged, letting recent stimulus measures time to work in the economy.   ECB President Mario Draghi said that policymakers were considering measures to mitigate the impact on banks from negative deposit rates as well as the pricing of new cheap two-year loans to banks, however he said it was too early to decide.   During his regular news conference after the meeting, Draghi did not give much away about any planned stimulus but highlighted further downside risks linked to global trade tensions and other uncertainties.  He said that, "incoming data continue to be weak, especially from the manufacturing sector… The slower growth momentum is expected to extend into the current year."  He further added about the risk of the eurozone economy that "the estimated probabilities of a recession remain low".
Trump And The Tariffs On European Products
The US and the EU have been locked in years in a spat over mutual claims of illegal aid to plane giants, Netherlands-based Airbus and US based Boeing, to help them gain advantage of the world jet business.  The case has been pushed through the World Trade Organisation for almost 15 years and is approaching its final stages of arbitration.  Trump said that "The World Trade Organisation finds that the European Union subsidies to Airbus has adversely impacted the US, which will now put Tariffs on $11 Billion of EU products!".   A day earlier, the US Trade Representative proposed targeting a list of European products for tariffs, ranging from large commercial aircraft to dairy products and wine, as retaliation for the European aircraft subsidies.  The final list is expected this summer.  Meanwhile the European Commission said on Tuesday it had started to draw up plans to retaliate over Boeing subsidies.  Both sides have won partial victories in claiming Airbus and Boeing received unlawful subsidies but disagree on the amount involved and whether each has complied with earlier WTO rulings. Airbus said it saw no legal basis for the US move and warned of deepening transatlantic trade tensions.  The EU is already facing tariffs on its steel and aluminium exports and Trump has repeatedly threatened to impose duties on cars.  The proposal of US tariffs has put pressure on shares of European makers of aircraft, aerospace and aerospace suppliers, wine, cheese and luxury goods.  On Tuesday, Moody's said that potential US tariffs on imported autos and parts represented a significant risk to global growth which would hinder economic momentum in Germany, Japan and Korea.
International Monetary Fund
The global economy is slowing more than expected and a sharp downturn could require world leaders to coordinate stimulus measures, said the International Monetary Fund on Tuesday as it cut its forecast for world economic growth this year.  The semi-annual World Economic Report pointed to the US-China trade war and a potentially-disorderly British exit from the European Union as key risks, and warned that chances of further cuts to the outlook were high.  In its third downgrade since October, the IMF said the global economy will likely grow 3.3 percent this year, which is the slowest expansion since 2016.  This is a 0.2 percentage point cut from January's outlook.  Meanwhile the projected outlook for next year was unchanged at 3.6 percent.
US Consumer Prices
US consumer prices increased by the most in more than a year in March. Meanwhile, underlying inflation remains benign against a backdrop of slowing domestic and global economic growth.  On Wednesday the labour department said that its Consumer Price Index rose 0.4 percent, amid increases in the costs of food, gasoline and rents.  This was the biggest increase since January 2018 followed by a 0.2 percent gain in February.   In the 12 months through March, the CPI increased 1.9 percent.  Inflation remained muted with wage growth increasing moderately despite tightening labour market conditions.  The subdued inflation environment and the slowing economic activity, support the decision taken by the Federal Reserve last month to suspend its three-year campaign to raise interest rates.
US Weekly Jobless Claims Lowest Since 1969
The number of Americans filing applications for unemployment benefits dropped to a 49 ½ year low last week, pointing to sustained labour market strength.  Initial claims for state unemployment benefits fell 8,000 to a seasonally adjusted 196,000 for the week ended 6th April, which is the lowest  since early October 1969.  Claims have declined for four straight weeks.  Data for previous week was revised to show 2,000 more applications that were not previously reported.  The Labour market which is the backbone for the economy appears to have lost momentum in the first quarter as the stimulus from $1.5 trillion tax package fades and the uncertainty over the trade war between the US and China that has slowed global demand.   Nonfarm payrolls increased by 196,000 jobs in March, well above the roughly 100,000 needed, to keep up with growth in the working-age population.
US Budget Deficit
The US budget deficit widened to $691 billion in the first half of fiscal 2019 as spending outpaced an increase in revenue.   According to the Treasury Department's budget report released Wednesday, the budget gap increased 15 percent compared with the same October-March period a year earlier.  Whilst receipts for the six-month period rose 0.7 percent, spending jumped 4.9 percent.  For March alone, the deficit narrowed to $147 billion, which was narrower than the $234 billion level the prior month.
FED Minutes From 19-20 March Meeting
The Federal Reserve is likely to leave interest rates unchanged this year amid risks from the US economy global slowdown and uncertainty over trade policies and financial conditions, said the minutes from the 19-20 March Meeting.  The minutes further said, "A majority of participants expected that the evolution of the economic outlook and risks to the outlook would likely warrant leaving the target range unchanged for the remainder of the year," Furthermore US central bankers debated possible policy moves the Fed could make after it ended its balance sheet reduction program by September, with some advocating purchases of US Treasury securities at that point.  The reaction of financial markets to the release of the March minutes was largely muted and US stocks were little changed and Treasury yields drifted up from the day's low.  The minutes also said that while policyholders noted that the US labour market appeared strong, some expressed concern about weakness and said a "deterioration" in the US economy could be amplified by large debt burdens at American companies.  There was consensus amongst policy makers however were concerned about the continued weakness in the housing market.
Oil
The IMF downgrade, which is its third since October, added to concerns that the slowdown this year will hit fuel consumption and prevent crude prices from rising even higher.  As OPEC production cuts and US sanctions on Iran and Venezuela continued to tighten the supply of oil, oil prices rose on Wednesday.    Brent and WTI crude oil futures have risen by about 30 percent and 40 percent respectively since the start of the year.  Furthermore, on Wednesday a released OPEC monthly report showed that Venezuela's oil output sank last month to a long-term low below 1 million barrels per day due to US sanctions and blackouts.
S&P 500 At A Record
Technology stocks  extended their leadership on Wall Street as the S&P 500 traded near its all time high.  Amongst the top performers since last December were Advanced Micro Devices Inc, Xilinx Inc. and Xerox Corp.  The S&P 500 has surged 22 percent since 24 December, when fears of higher interest rates knocked the index to an 18-month low.  The S&P 500 information technology index jumped 32 percent, followed by a 28 percent rally in consumer discretionary.  The S&P 500 on Tuesday dipped 0.61 percent, putting an end to eight straight sessions of gains.  It is down less than 2 percent its 20th September high close.  With the S&P 500 reaching a fresh record high, it would confirm that Wall Street's bull market remains intact following the 20 percent sell-off in the final quarter of 2018.
Markets Wrap
On Monday stock trading in Frankurt were under pressure amid poor data from Germany.  Meanwhile, European equity markets reversed a downfall and Wall Street dropped at the opening.    On Tuesday US stock and European stock markets dropped on concerns over the US and China and the tensions between the US and the EU.  Markets were in waiting mode on the eve of the release of the FED minutes and the decision by the European Central Bank over interest rates.  The earnings season also kicked off this week.  Wednesday saw European stocks rising ahead of the EU Summit.  On Thursday Wall Street edged higher at the opening helped by optimism about the economy after the government reported jobless claims that came in lower than expected.  Earlier Asian stocks mostly fell amid concerns over the trade war between the US and Europe.  On Friday Gold prices edged higher as the dollar slipped, recovering from its biggest daily percentage decline in two weeks, marked in the previous session.  Spot gold rose 0.1 percent at $1,293 per ounce after touching a one-week low on Thursday.  Asian shares turned lower ahead of the US corporate earnings season as investor caution over the global growth outlook overcame some reassuring US economic data.
Currencies
The pound rose on Monday as investors weighed in the risks of a Brexit week.  Volatility for the sterling plunged after the deal at the European Summit to postpone Brexit to 31st October.  On Thursday the Australian Dollar has been weighed down by a decline in copper prices and political uncertainty.  The Australian Prime Minister announced on Thursday a general election to be held on 18th May. On Friday the Euro rose to a 2 1/2 week high on Friday as dealers said speculators anticipated an increased demand for the EUR arising from a Japanese bank which plans to purchase the multi-billion-dollar aviation finance business from a German bank.   The euro rose to $1.1289 after touching $1.1294 its highest since 26th March.  Pressured by the stronger euro, the dollar index against a basket of six major currencies was down at 96.991, giving up most of the gains from the previous day.
Malta: Inbound Tourists As At February 2019
Total inbound visitors for February were estimated at 125,198 which represent an increase of 2.3 percent when compared to the corresponding month in 2018.  Whilst 103,655 inbound tourist trips were carried out for holiday purposes, a further 14,776 were undertaken for business purposes.  Inbound tourists from EU Member States went up by 1.7 percent to 107,744 when compared to the corresponding month in 2018.  Total tourist expenditure was estimated at EUR 71.2 million, a decrease of 2.8 percent over the corresponding month in 2018.
Malta: International Trade In Goods As At February 2019
Provisional figures for registered international trade recorded a trade deficit of EUR 341.7 million during February, compared to a deficit of EUR 190.9 million in the corresponding month of 2018.  Both exports and imports experienced increases of EUR 156.8 million and Eur 6 million respectively.  The increase in the value of imports was primarily due to machinery and transport equipment, partly outweighed by a decrease of EUR 45.6 million in mineral fuels, lubricants and related materials.  With regards to exports miscellaneous manufactured articles accounted to the main increase of EUR 9.8 million.
Malta:  Gainfully Occupied Population As At October 2019
In October 2018, registered full-time employment increased by 6.1 percent while part-time employment as a primary job increased by 0.7 percent when compared to the same month in 2017.  When compared to the same month in 2017, the highest increase in employment was brought about by professional, scientific and technical activities and administrative and support service activities with 1,816 and 1,452 respectively.  Registered full-time employment in the private sector went up by 10,873 persons to 161,663. Public sector full-time employment increased by 1,076 persons to 47,526.  Administrative data provided by Jobsplus show that, over a period of one year, the labour supply (excluding part-timers) in October increased by 5.7 per cent, reaching 210,979.  This was mainly attributed to a year-on-year increase in the full-time registered employment (11,949) and a decline in registered unemployment (529).
'The information provided on this website is being provided solely for educational and informational purposes and should not be constituted as investment advice, advice concerning investments or investment decisions, or tax or legal advice. Similarly, any views or options expressed on this website are not intended and should not be construed as being investment, tax or legal advice or recommendations. Investment advice should always be based on the circumstances of the person whom it is directed, which circumstances have not been taken into consideration by the persons expressing the views or opinions appearing on this website. Timberland Securities Investment plc has not verified and consequently neither warrants the accuracy nor the veracity of any information, views or opinions appearing on this website. You should always take professional investment advice in connection with, or independently research and verify, any information that you find or views or opinions which you read on our website and wish to rely upon, whether for the purpose of making and an investment decision or otherwise. Timberland Securities Investment plc does not accept liability for losses suffered by persons as a result of information, views of opinions appearing on this website. This website is owned and operated by Timberland Securities Investment plc (reg. No. C68856) of Aragon House Business Centre, Dragonara Road, St Julian's STJ 3140.'