"Trade Talks Between US And China…"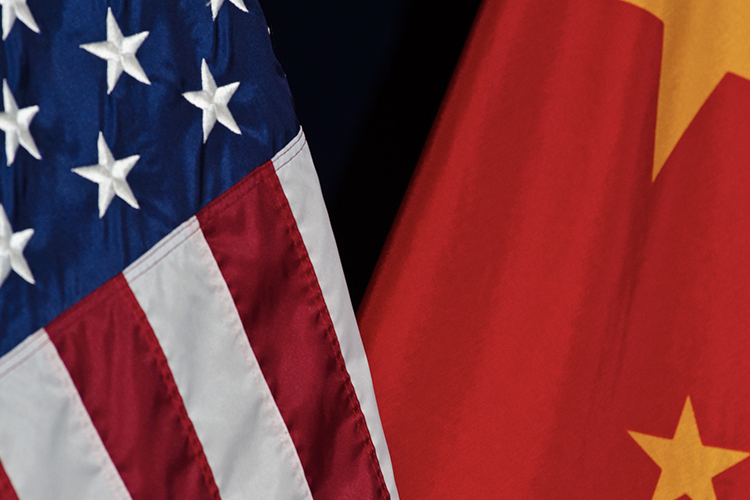 Trade Talks Between US And China
A new round of talks started in Washington on Tuesday between the US and China to resolve the trade war, followed by higher level talks on Thursday and Friday. The talks follow a round of negotiations that ended in Beijing last week without a deal but which officials said had generated progress on contentious issues between the world's two largest economies. On Tuesday, President Donald Trump said trade talks with China were going well and suggested he was open to pushing back the 1st March deadline to complete negotiations, saying it was not a "magical" date. According to sources familiar to the negotiations, the United States and China started to outline commitments in principle on the most difficult issues in their trade dispute, marking the most significant progress so far in the trade war. The sources said that the broad outline of what could make up a deal is beginning to emerge from the talks as the two push for an agreement by 1st March. Negotiators are drawing up six memorandums of understanding (MOUs) on structural issues amongst which are forced technology, transfer and cyber theft, intellectual property rights, services, currency, agriculture and non-tariff barriers to trade according to two sources. The MOUs cover the most complex issues that affected the trading relationship between the two countries and which are meant to end the practices that led Trump to start levying the duties on Chinese imports in the first place.
The FED
The Federal Reserve on Wednesday indicated that they will soon lay out a plan to stop letting go of $4 trillion in bonds and other assets. According to the FED minutes from their Jan 29-30 meeting released on Wednesday, for now policymakers see little risk to leaving interest rates alone, while they take time to assess rising risks, including a global slowdown. Although several participants thought a rate increase would be necessary only if inflation unexpectedly surged, "several other participants indicated that if the economy evolved as they expected, they would view it as appropriate to raise the target range for the federal funds rate later this year." The dovish decision taken by the FED came around after mounting risks to the US economy, including slowing Chinese and European economies and declining stimulus from the 2018 US tax cuts. The minutes also show that FED policymakers seem to agree around a plan to leave their balance sheet permanently bigger than it ever was in the past. In the wake of the 2007-2009 recession the FED absorbed government bonds and mortgages however, policymakers in the final months of 2017 policymakers began trimming those holdings.
Brexit
Prime Minister Theresa May planned to speak to every EU leader and the European Commission chief to seek changes to her EU withdrawal after the defeat from her own lawmakers last week. The key point is the backstop, which is an insurance policy to prevent the return of extensive checks on the sensitive border between the EU member Ireland and the British province of Northern Ireland. May agreed on the protocol with EU leaders in November but then saw it rejected last month by UK lawmakers who said the government's legal advice that it could tie Britain to EU rules indefinitely, made the backstop unacceptable. On Wednesday Theresa May made another trip to Brussels to meet EU Commission President Juncker and a spokesman for May called the trip "significant" as part of a process of engagement to try to agree on the changes her government says parliament needs to pass the deal. Meanwhile, Theresa May will hold bilateral meetings with European Union leaders at an EU-League of Arab States summit in Egypt at the weekend. If May does not bring a revised deal back to parliament for a vote by 27th February, lawmakers will be given the opportunity to debate and vote on the next steps.
France And Cyprus Launch Debt Sales
France and Cyprus launched syndicated bond sales on Tuesday as Eurozone government bond yields were at lower levels on expectations that the European Central Bank will boost a faltering economy with cheap loans. France and Cyprus launched syndications which is a deal structure where banks are appointed to sell debt directly to investors. Demand for Eurozone government bonds is high, with borrowing costs near the lowest levels in months and with long-dated bond sales from Belgium and Italy accumulated record levels of demand earlier this year. Eurozone borrowing costs are being compressed by expectations that the ECB will launch cheap loans to banks known as the long-term financing operations (LTRO).
German Investor Confidence Rises
Investor confidence in Germany's economic outlook improved for a fourth straight month, hinting a modest pickup in momentum in the coming months. A gauge that measures the prospects for the next six months rose to minus 13.4 in February, beating an estimate of minus 13.6. Although the index recorded the longest streak of improvements since early 2015, the negative reading means that in the survey pessimist participants still outnumber optimists.
Europe – PMIs Signal Growth
Surveys showed business activity was surprisingly firm in February, particularly in France, however, manufacturing readings were poor. The French purchasing managers' index showed that French business activity rose more than expected as manufacturing growth helped offset the decline in services that has persisted firms in the wake of the anti-government protests. The German PMI number gave more of a mixed picture with the services sector accelerating to a five-month high, compensating for the second successive monthly contraction in manufacturing. The survey for the bloc confirms concerns around manufacturing, with factory output unexpectedly declining amid trade tensions and struggling auto sector. Germany's 10 year yield was 1 basis point higher at 0.11 percent, having hit a one-week high of 0.124 percent in early trade just after the French PMI survey. Meanwhile, Eurozone government bond yields rose after the surveys. Economic growth in Europe has slowed considerably in recent months, with Germany nearly escaping a recession at the end of last year. Concerns are mounting over the potential US tariffs on cars that could have a further negative impact.
Oil
On Monday Brent crude oil steadied, on track for its strongest first quarter in eight years. Investors believe that OPEC's supply cuts will prevent a build-up of unused fuel, although concerns over China's economy offset gains. Oil has so far increased by nearly 25 percent this year, and is on course for its strongest first-quarter performance since 2011 thanks to OPEC and its allies to cut output. On Tuesday oil hovered just below the 2019 highs as traders waited for the outcome of the US-China trade talks that started on the day. On Wednesday US West Texas Intermediate crude oil futures hit 2019 highs of $56.39 per barrel but had slipped back to $56.16 per barrel. International Brent crude futures were at $66.41 per barrel, down 4 cents from their last close, though still not far off their 2019 high of $66.83 per barrel, hit on Monday. Oil prices are supported by supply cuts led by OPEC and the US sanctions on oil exporters Iran and Venezuela. OPEC and top crude exporter Saudi Arabia is expected to reduce shipments of light crude oil to Asia in March as part of the effort to tighten markets.
Markets Wrap
On Monday sterling drifted higher after registering three weeks of consecutive losses as investors waited for the outcome of Brexit talks between Britain and the EU. The euro climbed to $1.13 and other currencies like the Australian dollar strengthened on Monday as optimism over a breakthrough in US-China trade talks motivated investors. Meanwhile, Asian shares bounced broadly on Monday as investors hoped for progress in the talks between the US and China. Japan's Nikkei climbed 1.8 percent to its highest level of the year so far, while Shangai blue chips rallied 2.1 percent. On Tuesday the euro fell as investors shifted their focus from progress in US-China trade talks to an economic slowdown in the Eurozone. Eurozone bond yields, notably German bunds fell amid the cloudy European outlook that weighed on the euro. The expectations for the coming months is that the ECB will maintain an easy monetary policy amid slow growth, political uncertainty and lower inflation. Meanwhile, the yen weakened to 110.715 against the dollar from 110.45 after Japan's central bank governor raised the possibility of further policy easing. The Governor of Bank of Japan told the Japanese parliament that the central bank was ready to ramp up stimulus if a rising yen hurts the economy and keeps Japan from hitting the bank's 2 percent inflation target. Meanwhile, the Australian dollar which is a barometer of global risk sentiment was down 0.2 percent at $0.7113 after the Reserve Bank of Australia released its policy meeting minutes on Tuesday. The minutes of February's policy meeting, showed the central bank saw "significant uncertainties" in the economy as the property dropped rapidly. On Wednesday trade talks between the two largest economies helped European shares to rise. The German DAX led the way with a 0.8 percent gain and the pan-European STOXX 600 rose 0.7 percent after US President Donald Trump said on Tuesday that trade talks with China were going well. Meanwhile, autos which are susceptible to rising protectionism jumped 2.4 percent. On Thursday sterling was lifted on hopes that Prime Minister Theresa May can secure changes to her Brexit deal from Brussels.
Malta: DBRS Affirms Malta's Rating
DBRS a reputable Canadian credit rating agency has confirmed Malta's sovereign credit rating at 'A (high)' with a stable outlook. DBRS notes that the 'A (high)' rating is mainly supported by Malta's strong external position, the low reliance on external financing, the favourable public debt structure and the household's strong financial position. DBRS noted the potential GDP growth jumped from 2.5 percent from 2004 to 2012 to 6.1 percent from 2013 to 2018. As a result GDP per capita continued to converge to EU average levels in 2018.
Malta: Registered Unemployment – January 2019
In January, the number of persons registering for work stood at 1,796 decreasing by 10.2 percent when compared to the corresponding month in 2018. The largest share of men and women on the unemployment register sought occupations as clerical support workers with 16.9 percent and 37.2 percent respectively.
Malta: Harmonised Index Of Consumer Prices (HICP) – January 2019
In January 2019 the annual rate of inflation as measured by the Harmonised Index of Consumer Prices (HICP) was 1 percent down from 1.2 per cent in December 2018. The largest upward impact on annual inflation was measured in the Food and Non-alcoholic Beverages index, while the largest downward impact was recorded in the Furnishings, Household Equipment and Routine Household Maintenance Index. The Harmonised Index of Consumer Prices measures monthly price changes in the cost of purchasing a representative basket of consumer goods and services.
'The information provided on this website is being provided solely for educational and informational purposes and should not be constituted as investment advice, advice concerning investments or investment decisions, or tax or legal advice. Similarly, any views or options expressed on this website are not intended and should not be construed as being investment, tax or legal advice or recommendations. Investment advice should always be based on the circumstances of the person whom it is directed, which circumstances have not been taken into consideration by the persons expressing the views or opinions appearing on this website. Timberland Securities Investment plc has not verified and consequently neither warrants the accuracy nor the veracity of any information, views or opinions appearing on this website. You should always take professional investment advice in connection with, or independently research and verify, any information that you find or views or opinions which you read on our website and wish to rely upon, whether for the purpose of making and an investment decision or otherwise. Timberland Securities Investment plc does not accept liability for losses suffered by persons as a result of information, views of opinions appearing on this website. This website is owned and operated by Timberland Securities Investment plc (reg. No. C68856) of Aragon House Business Centre, Dragonara Road, St Julian's STJ 3140.'