"Italy's Clash With EU Over Budget Rules…"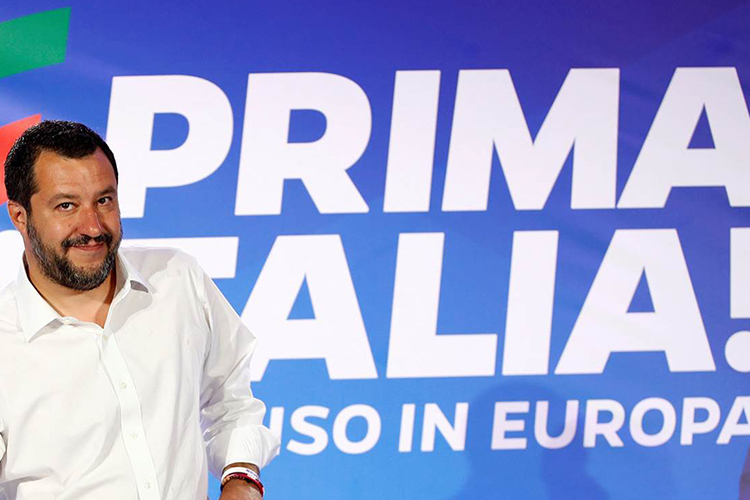 Italy's Clash With EU Over Budget Rules
Italy's debt is proportionally the highest in the eurozone after Greece. Italian benchmark bond yields rose by 10 basis points on Tuesday, having increased around 11 basis points on Monday and marked the sharpest two-day rise in benchmark borrowing costs since the start of the year. Deputy Prime Minister Matteo Salvini called on Tuesday for a new role for the European Central Bank which should "guarantee" government debt in order to keep bond yields low. Since Salvini's party victory by 34 percent on Sunday in the European Parliamentary vote in Italy, Salvini has stepped up his promises to slash taxes and call for new EU Budget rules, unnerving financial markets which fear his plans will boost Italy's huge public debt. Meanwhile, in view that Italy's debt is rising, and structural deficit levels break European Union rule, sources told Reuters on Monday that European Commission was likely to start disciplinary steps against Italy next week.
French Inflation
French inflation slowed more than expected in May to its lowest in nearly two years, according to preliminary EU-harmonised data from the INSEE statistics agency on Wednesday. INSEE also said that consumer prices rose in May by 0.2 percent, giving a 12-month inflation rate of 1.1 percent, the lowest rate since September 2017.
Greek Prime Minister Calls Snap National Elections
Greek Prime Minister Alexis Tsipras called snap elections after suffering a heavy defeat by the opposition conservatives in European Parliament elections on Sunday. Syriza party, whose Prime Minister is Alex Tsipras, had stormed the Greek political scene on an anti-austerity platform six years ago, then suffered a backlash after having imposed cut-backs as part of a third bailout in 2015. Moreover, there was a deep unpopular agreement that resolved a long-running name dispute with North Macedonia. Tsipras decided not to push through to the full term which expires in October. The results from the European Parliament vote showed Syriza trailing the opposition New Democracy party by about nine points.
Brexit
The EU has told Britain that there will be no renegotiation of Brexit deal. The European Union will not renegotiate the Brexit deal that Prime Minister Theresa May agreed, said on Tuesday Commission President Jean-Claude Juncker. Concerns are rising over the new successor to May that could trigger a confrontation with the bloc. Any successor to May will have to accept that the Brexit divorce deal that was agreed will not be ratified by the current British parliament, so they will have to find a solution to the Irish border issue that has upset many lawmakers. Many opposed May's deal because of a "backstop" that requires Britain to adopt some EU rules indefinitely unless a further arrangement is found to keep open the land border between Northern Ireland and Ireland. Under current law, Britain will automatically leave the EU on 31st October without an agreement unless parliament approves one, the EU grants an extension, or the government revokes its decision to leave. On a separate note, Boris Johnson the favourite to replace Theresa May as British Prime minister must appear in court over allegations he lied about Brexit by stating that Britain would be 350 million pounds a week better off outside the EU, a judge ruled on Wednesday. Opponents argued that it was deliberately misleading and it became symbolic of the divisions caused by the referendum, which saw Britons voting by 52 percent to 48 percent to leave the European Union.
Eurozone Sentiment
Eurozone economic sentiment was better than expected in May, rising from 10 consecutive falls amid optimism in the biggest sector services, but also in industry and among consumers, data from the European Commission said on Tuesday. Services sentiment improved from 11.8 to 12.2. Meanwhile the Commission's business climate indicator, which helps point to the phase of business cycle, continued to fall declining to 0.3 in May from 0.42 in April.
European Systemic Risk Board Report (ESRB)
A report was prepared by the European Systemic Risk Board (ESRB) for a meeting of the eurozone economic officials ahead of next week's monthly meeting of the bloc's finance ministers. In the document the ESRB said that "Risks to EU financial stability are assessed to have remained at elevated level". Listing as its main concerns are the mispricing of risks by financial operators and their possible repricing of premia as growth slows and interest rates remain low. According to the ESRB these risks are mostly caused by global trade tensions, the weakness of emerging economies and the "policy uncertainties in Italy", where a Eurosceptic government has embarked on high-spending plans with little impact on growth despite Italy's debt is at a high level of 130 percent of output. In the document, the ECSRB further said that uncertainties could hurt the balance sheets of EU financial institutions, and stressed that EU banks, life insurers and pension schemes face increased risks amid the current low-yield environment. In view of the expected slowdown, the ECB has normalised monetary policy, delaying increasing the interest rates from record lows until next year and beyond if the need arises. The ESRB also said that high level of public and private debt are also risks for the financial stability as the capacity to absorb shocks is "limited". The ESRB warned of the dangers caused by EU shadow banking system, which includes investment banks, money market and hedge funds, as its growing size and complexity makes it difficult to gauge its exposure to risks.
China's Auto Sales
China's automobile sales which are a key driver of global oil demand growth, will reach around 28.1 million units this year. This figure is unchanged from the levels reached in 2018, when the country's auto market contracted for the first time in more than two decades, according to news agency Xinhua. Referring to a report released by the China Association of Automobile Manufacturers and other parties, Xinhua said that sales of passenger units will be about 23.7 million units, a level which is similar to that of last year. The report further said that sales of new energy vehicles, are likely to remain buoyant and grow about 27 percent to hit 1.6 million units from 1.26 units in 2018.
China's Industrial Profits
Profits for China's industrial firms shrank in April putting pressure on policymakers to step up support for an economy that had been badly hit by the trade war with the United States. Earnings at China's key manufacturing sector have been declining since November last year, with the exception of March as both domestic and global demand slowed. Industrial profits dropped 3.7 percent year-on-year to 515.4 billion yuan in April, partly due to a high base of comparison in the previous year, according to data published by the National Bureau of Statistics (NBS) on Monday. For the first four months industrial firms notched up profits of 1.81 trillion yuan, down 3.4 percent from a year earlier, compared with a 3.3 percent drop in the first quarter this year. The contraction in profits was in line with the weak growth in industrial output in the January-April period. New factory orders and weak fixed-asset investment has stocked worries about demand, which remained sluggish in April, while exports have fallen on as a sharp drop in shipments to the United States.
Trump In Japan
In a four-day trip to Japan and at a news conference with Japanese Prime Minister Shinzo Abe after a summit, Trump said his goal was to remove trade barriers and to put US exports on an equal footing in Japan. He said he hoped to have more to announce on trade very soon and said the two had agreed to expand cooperation in human space exploration. From his end, Abe said the two leaders had agreed to accelerate two-way trade talks. Trump and Abe had put a show of friendship but have policy disagreements over trade and North Korea. Trump has threatened to target the Japanese automakers with high tariffs. Another topic which was discussed was Iran where Abe is considering scheduling a trip next month.
Bank Of Canada
Bank of Canada held interest rates steady on Wednesday saying that there was evidence that the slowdown was temporary but signalled that it would remain on the side lines as it monitors economic developments. The central bank left its overnight rate at 1.75 percent. Inflation is expected to remain around the bank's 2 percent target in the coming months, it said. Bank of Canada raised rates five times between July 2017 and October 2018. Since then the bank has remained on the side lines citing the economic challenges posed by high levels of household debt, low oil prices and trade tensions between the United States and China.
Weak US Manufacturing
New orders for US made capital goods fell more than expected in April. This was further evidence that the economy is slowing after increased growth in the first quarter that was driven by exports and build-up of inventories. The report by the Commerce Department on Friday showed orders for these goods were not as strong as previously thought in March and shipments were weak over the last two months, indicating that manufacturing was losing ground. The sector which accounts about 12 percent of the economy, is being affected by fewer orders, while inventory stockpile in warehouses. Inventory is high in the automotive sector which is experiencing slow sales.
US Banking Sector
The US Banking Sector recorded $60.7 billion in profits in the first quarter of 2019, an increase in the profits levels from the prior year, according to data from the Federal Deposit Insurance Corporation. US bank profits increased by $4.9 billion, an increase of 8.7 percent, when compared to the first quarter of 2018. The FDIC said that the profits were driven by higher net interest income. The FDIC also said the number of "problem banks" had fallen from 60 to 59 in the first quarter. This marks the lowest level of struggling institutions since the first quarter of 2007.
US Mortgage Activity Hits One-Month Low
According to the Mortgage Bankers Association, the number of US borrowers seeking a home loan, fell to a one-month low, amid concerns about the growing trade tensions between the US and China and its impact on the economy. The Washington based group's seasonally adjusted measure of mortgage applications for home purchase and refinancing declined by 3.3 percent to 411.5 in the week ending 24th May.
Democratic Presidential Candidate Push for Impeachment Of President Donald Trump
Democratic presidential candidates increased up the pressure on US House Speaker Nancy Pelosi to start the process of impeaching President Donald Trump, after Special Counsel Robert Mueller's first public comments on his two-year Russia probe. Robert Mueller was assigned to investigate Moscow's interference in the 2016 election, on Wednesday, reaffirming that his team did not consider filing charges against Trump for obstruction of justice, because US Justice Department policy bars the indictment of a sitting president. Several Democratic candidates for the White House interpreted the remarks by Mueller as encouraging the Democratic-led House of Representative to determine whether Trump tried to derail the probe and should be impeached.
Commodities
Oil markets were subdued on Wednesday on worries that the Sino-US trade war could trigger a global economic downturn. There is also the risk of supply shortage from US floods and political tensions in the Middle East. Brent crude lost 45 cents at $69.66 per barrel while US crude eased 58 cents to $58.56 per barrel. Meanwhile after an industry report that showed a decline in US crude, inventories resulted in a modest increase in oil prices. The rise followed volatile trading on Wednesday, when oil prices fell to near three-month lows at one point. As trade tensions weighed on oil, supply constraints linked to the OPEC output cuts and political tensions in the Middle East, have offered some support.
Gold
Holdings of SPDR Gold Trust, the world's largest gold-backed exchange traded fund, rose 0.5 percent to 740.86 tonnes on Wednesday. Despite Wednesday's increase, SPDR gold holdings are down over 6 percent so far this year. Meanwhile, gold prices dropped on Thursday as bond rallied, and the dollar hovered near a two-year high. Spot gold was down 0.2 percent at $1,277.29 per ounce whilst US gold futures edged 0.4 percent lower to $1,276.30 an ounce. As the trade tension between the US and China escalated, investors flew to safe-haven assets including government bonds.
Yields
On Wednesday, safe haven assets rallied strong in early trade. Germany's 10-year government bond and the 10-year US treasuries fell after reports that China is ready to hit back against the United States with tariffs on rare earths, a group of 17 chemical elements. China is a major producer of rare earths used widely in high-tech consumer electronics to military equipment. Germany's 10-year government bond yield fell to its lowest level in nearly three years, hitting a low of -0.172 basis points, pushing the German curve to its flattest in the same period of time. The ten-year US Treasuries were down 4 bps having touched a day's low of 2.226 percent, its lowest level in 20 months. Greek ten-year bond yields pulled back from the 3 percent record low hit on Monday after dropping 20 basis points but were still close to all-time lows at 3.175 percent ahead of elections which shall take place on 7th July. Spanish and Portuguese 10-year yields fell to record lows as deeply negative German Bund yields have encouraged investors to look elsewhere for returns.
Markets Wrap
During the past week investors switched from equities to safe-haven assets such as government bonds. Consequently, yields on German benchmark debt approached record lows. On Monday European shares climbed as investors snapped up automaker stocks, following confirmation of merger talks between Fiat Chrysler and Renault and after pro-EU parties kept their power in the elections of the European Parliament. Auto stocks climbed 1.6 percent as Fiat Chrysler confirmed it made a "transformative merger" proposal to French peer Renault in a deal that would create the world's third-biggest carmaker. Shares of both companies surged. The MSCI world equity index which tracks shares in 47 countries was ahead by 0.6 percent. Meanwhile investors were worried that Eurosceptic parties gain a 30 per cent of seats, a level that could disrupt European governance and the region's ability to show unity to address main issues such as the global trade war. Far-right, nationalist or anti-EU groups nevertheless came out on top in Italy, Britain, France and Poland. On Tuesday US Stock index futures dipped after a long weekend as investors took a cautious stance after President Donald Trump indicated that the US and China are far from a trade agreement. The back and forth between the two sides raised concerns that the trade war would lead to a global economic slowdown. On Wednesday, Asian shares sunk, and bonds rallied as investor sentiment soured over growing concerns about world growth as trade tensions between the US and China persists. Risk aversion has returned in global markets in recent days amid fears of a world recession that has resurfaced, as disappointing macro data in major economies disappoint wins for Eurosceptic parties in EU elections, a snap election in Greece and political turmoil in Austria, added to the gloomy outlook. These concerns led to the US 10-year yields to fall about 10 basis points below the 3-month rates, an inversion seen as a leading indicator of a recession. German Bund yields were also in slippery mode. Meanwhile, the S&P 500 opened at a more than two-month low, the Dow Jones Industrial Average fell 0.46 % at the open whilst the NASDAQ composite dropped 0.71 percent at the opening bell as trade tensions mount. On Thursday Asian stocks tracked Wall Street losses over the heightened risk of a prolonged trade war and the impact on economic growth.
Malta – Industrial Producer Price Indices For April 2019
During April 2019, the industrial producer price index registered an increase of 1.15 percent when compared to the same month of the previous year. The reason for the increase was a rise of 1.83 percent in intermediate goods, 1.45 per cent in consumer goods and 0.06 percent in capital goods. No price changes were registered in within the energy sector.
Malta – Short-Term Services Indicators: Q1 2019
Compared to the first quarter of 2018, working-day adjusted turnover increased by 1.7 percent. The sectors which experienced an increase were information and communication activities (8.2%), in real estate activities (6.2%), wholesale trade (5 percent), transportation and storage (4.3%), retail trade (4.3%), motor trade (1.9 %) and administrative and support service activities (0.8 %). Meanwhile, decreases were recorded in the professional, scientific and technical activities (-29.1) and in the accommodation and food service activities (-2.4 percent). Employment gross wages and salaries paid and hours worked rose by 0.3, 2.3 and 1.3 percent respectively.
Malta: Structure Of General Government Debt: 2018
For the year ending 2018, the General Government debt amounted to EUR5,664.7 million, or 46 percent of GDP which is a decrease of EUR 17.8 million over 2017. The majority of the debt owned by the Malta Government Sector is in national currency. The stock of debt in foreign currencies decreased considerably over the years and in 2018 it amounted to EUR 0.1 million. The apparent cost of debt, which is the interest rate applicable to the whole nominal debt, was 3.3 percent in 2018, in contrast to 4.2 percent for 2015. This reflects the current low interest rate scenario. For 2018, the market value of the total General Government debt is estimated at EUR 6,567.2 million compared to the nominal value of EUR 5,664.7. The time structure of the debt for the year under review are: 15 to 30 years: (55.2 %), 5 to 7 years (12.8%), 10 to 15 years (11.2%), 1 to 5 years and less than 1 year (both at 7.4%). The average remaining maturity of total debt for 2018 was 8 years 10 months, down from 9 years 5 months in 2017. Government guarantees on borrowing amounted to EUR 1071.1 million in 2018 which is 8.7 percent of GDP, an increase of EUR1.8 million over 2017.
'The information provided on this website is being provided solely for educational and informational purposes and should not be constituted as investment advice, advice concerning investments or investment decisions, or tax or legal advice. Similarly, any views or options expressed on this website are not intended and should not be construed as being investment, tax or legal advice or recommendations. Investment advice should always be based on the circumstances of the person whom it is directed, which circumstances have not been taken into consideration by the persons expressing the views or opinions appearing on this website. Timberland Securities Investment plc has not verified and consequently neither warrants the accuracy nor the veracity of any information, views or opinions appearing on this website. You should always take professional investment advice in connection with, or independently research and verify, any information that you find or views or opinions which you read on our website and wish to rely upon, whether for the purpose of making and an investment decision or otherwise. Timberland Securities Investment plc does not accept liability for losses suffered by persons as a result of information, views of opinions appearing on this website. This website is owned and operated by Timberland Securities Investment plc (reg. No. C68856) of Aragon House Business Centre, Dragonara Road, St Julian's STJ 3140.'