"IMF's Christine Lagarde…"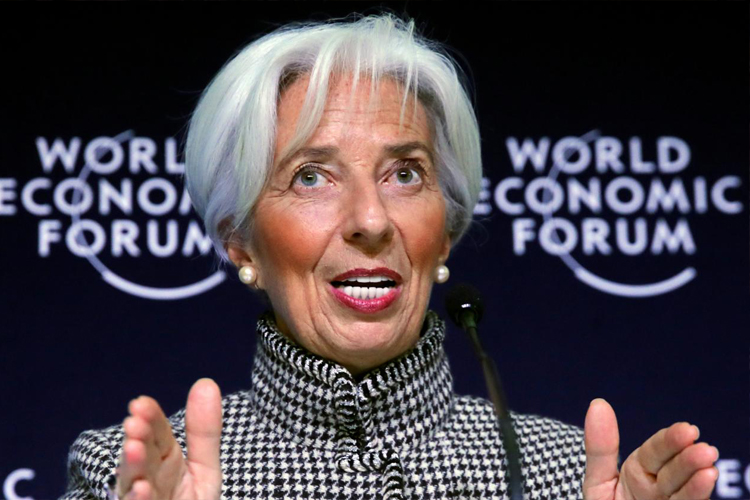 IMF's Christine Lagarde
IMF Managing Director said on Monday that the risk of a sharper slowdown in global growth had increased, even if recession was not yet around the corner. Speaking at the World Economic Forum in Davos Switzerland, after the IMF trimmed its 2019 and 2020 global growth forecasts, Lagarde urged policymakers to address economic vulnerabilities, especially by reducing high government debt. Christine Lagarde said on Tuesday that the US Federal Reserve tightening policy will not be accelerated as anticipated earlier, adding that the Fed's patient attitude is positive for growth. With regards to the US government she said that the prolonged shutdown is "not a good thing". She further said that Brexit poses uncertainty for Europe and the UK, and a no-deal Brexit is "obviously the worst case scenario".
The World Economic Forum
The annual gathering of global leaders in politics, business and culture opened in Davos, Switzerland on Tuesday. Companies gathered at the World Economic forum in the Swiss Alps this year are worried that Trump's trade war with China will dampen the global economy and business investments further. A main complaint at the gathering is that companies that are increasingly reliant on consumers in China have had to lower their earnings outlooks as the world's second largest economy cools. Although the US Administration in order to attract new investment inwards has cut taxes and regulations, a wave of caution is flowing through many industries in the US. According to the United Nations Conference on Trade and Development (UNCTAD) foreign investment in the US which includes cross-border mergers and acquisitions and intra-company loans fell about 18 percent in 2018 from the prior year. Although the UN trade agency attributed the global and US declines to the tariffs that the US and China have imposed on each other's imports since mid-2018, foreign investment in China has risen by 3 percent last year over the previous year. Meanwhile foreign investment to India rose 7 percent.
Europe's Growth Forecast By The IMF
The International Monetary Fund (IMF) cut its world economic growth forecasts for 2019 and 2020 because of weakness in Europe and some emerging markets and said that failure to resolve trade disputes could further destabilise a slowing global economy. The IMF has trimmed Europe's growth projections to 1.6 percent in 2019 from 1.8 percent. This is 0.3 percentage point lower than what was projected three months ago. EUR struggled near a three-week low on Tuesday amid weak data and the cut in the IMF growth forecast for Europe that prompted investors to turn bearish on the single currency. On Tuesday, pessimism about the global future growth drove down commodity markets and shares worldwide.
Germany's Services Sector
Growth in Germany's services sector accelerated more than expected in January according to a survey released on Thursday, compensating for the first contraction in manufacturing activity in more than four years. The IHS Markit's flash composite Purchasing Managers' Index (PMI) rose to 52.1 from 51.6 the previous month, sign of a pick-up in growth. The index that measures activity in the manufacturing sector fell to a 50-month low of 49.9, going below the 50 mark that separates growth from contraction. Meanwhile, activity in services rose to a two-month high of 53.1, up from 51.8 in December. Trade tensions have hit exporters in Europe's largest economy which posted the weakest growth rate in five years last year 1.5 percent compared with 2.2 percent in 2017. The economy has been relying on consumption for growth. Amongst the factors that supported the consumption driven cycle are robust labour market, rising wages and low interest rates.
UK Jobs Data
Data showed British workers' pay growth hit a new 10 year high and employment grew by much more than expected in the three months to the end of November. Sterling hit the day's high on Tuesday after UK employment data beat expectations suggesting the labour market remained robust despite an economic slowdown ahead of Brexit. Meanwhile, sterling became stronger after British Prime Minister Theresa May sought to break a parliamentary deadlock over Brexit by proposing to seek further concessions from the European Union.
Accord signed by France and Germany
On Tuesday an accord was signed by German Chancellor Angela Merkel and French President Emmanuel Macron in Aachen Germany, to build on a 1963 treaty of post-war reconciliation. The treaty extension negotiated over the past year, call for more cooperation between the two countries on defence, security and culture. It says a priority of German-French diplomacy will be for Germany to be accepted as a permanent member of the United Nations Security Council.
China
The Chinese economy grew 6.4 percent in the fourth quarter from a year earlier, impacted by higher US tariffs and weaker demand at home, with the 2018 growth the lowest in nearly three decades. This is a sign of weakness in China that has generated nearly a third of global growth in recent years. Anxiety about risks to the world economy are weighing on profits of companies ranging from Apple to big carmakers. Slowing growth has put pressure on the governments to roll out more stimulus to avert a sharper slowdown. In the past year the central bank has cut the reserve requirement ratio for banks five times in the past year. The national bureau of statistics said on Monday that fourth-quarter gross domestic product (GDP) grew at the slowest pace since the global financial crisis, easing to 6.4 percent on-year as expected from 6.5 percent in the third quarter. The full year growth is down to 6.6 percent, the slowest annual pace since 1990. On Monday President Xi Jinping said that China must be on guard against "black swan" risks (refers to unforeseen occurrence that has extreme consequences), while fending off "gray rhino" events (is a highly obvious yet ignored threat), adding that the economy faces deep and complicated changes. This was reported by Xinhua state news agency. According to Xi, China will be implementing long-term mechanisms that support the stable and healthy development of the property market, while making a thorough evaluation of the potential impact on financial markets when drafting policies. He further emphasised that technology safety was an important part of national security and the country will accelerate legislation in artificial intelligence, autonomous vehicles and drones.
China and US Talks
China and the United States will have in depth discussions on economic and trade issues during the visit by Chinese Vice Premier Liu He to the US next week, said the Chinese commerce ministry on Thursday. Companies in both countries are feeling the sting of US tariffs and retaliation from China. Earlier this month Apple Inc cut its sales outlook blaming slow Chinese demand. White House economic adviser Kevin Hassett said he believed the US and China could reach a trade deal by 1st March. That view was backed by the equally optimistic comments by Trump on the progress of the talks.
US Government Shutdown
On Wednesday President Donald Trump said that he would delay a State of the Union address in reply to House Speaker Nancy Pelosi's move to obstruct his plans for the speech. Earlier in the day, Democratic leaders in the House of Representatives suggested ending the partial government shutdown by giving Trump most or all of the money he is asking for security along the Mexican border but for items other than the wall he wants. The shutdown that has left 800,000 federal workers without pay has hit its 33rd day.
Currencies
On Monday, the US dollar hovered near its two-week high against a basket of currencies as China and the US seek to resolve their differences. The Dollar rose to 96.472 its highest level since 4th January and up more than 1.5 percent from a three-month low earlier this month. On Saturday, US President Donald Trump said that there has been progress towards a trade deal with China, but denied that he was considering lifting tariffs on Chinese imports. Data on Friday showed that China's commercial banks sold a net of $7.1 billion worth of foreign exchange in December, down from $ 17.9 billion a month earlier. A drop in net sales could mean less pressure from capital flows and take some heat off the yuan. The yen which is another safe haven currency was steady against the dollar fetching 109.64 in early trade on Monday. Analysts are expecting monetary policy to remain accommodative in Japan this year. Monday also saw sterling firming after the pound jumped 0.3 percent as soon as British Prime Minister Theresa May sought to break a parliamentary deadlock over Brexit by proposing to seek further concessions from the EU. On Tuesday the dollar rose against a basket of other major currencies a day after the IMF trimmed its global growth forecasts, and as worries about the US-Chinese trade tensions mounted driving investors to move away from riskier assets. After the strong employment data that suggested that Britain's labour market remained robust despite the economic slowdown ahead of Brexit, sterling rose and jumped 0.3 percent to the day's high against the dollar and the euro. On Thursday Mario Draghi's comments pushed the dollar to a more than five week high against the euro. The EUR was 0.45 percent lower against the dollar at $1.1329 after falling as low as $1.1308, its weakest since 17th December.
Bank of Japan and European Central Bank
Bank of Japan
Japan's economy expanded for the seventh straight quarter in July to September, which is the longest uninterrupted stretch of growth since 1994. Stock prices are also at their highest in 26 years. The Bank of Japan kept monetary policy unchanged. Bank of Japan's Governor Kuroda was a reminder to investors that the BOJ was in no rush to follow the footsteps of its US and European peers to end their policies. In a briefing, Kuroda said, "There is still some distance to 2 percent inflation, so we're in no condition yet to debate the timing and method of an exit from ultra-easy monetary policy." Core consumer prices rose for the 11th straight month in November. The recent strengthening in Japan's economic policy may have raised the expectations that the BOJ would withdraw the policies rather than expand the stimulus. The BOJ maintained its pledge to guide short-term interest rates at minus 0.1 percent and 10 year bond yields around zero percent at its two-day review that ended on Tuesday. After Kuroda retaliated his comments to a strong monetary easing the yen weakened to 111.15 yen to the dollar down 0.2 percent.
ECB And Its Policy
The European Central Bank left its policy unchanged as expected on Thursday, whilst keeping the possibility of a rate hike this year on the table even though Europe is suffering its biggest slowdown in half a decade. The ECB has just ended a landmark 2.6 trillion euro bond purchase scheme just weeks ago. The ECB is expected to keep interest rates at record lows 'through' the summer, sticking with its long-standing guidance. Germany, France and Italy barely grew in the fourth quarter of 2018 and survey data showed on Thursday business activity across the Eurozone expanded at the slowest pace since 2013 at the start of this year. Meanwhile, European Central Bank Mario Draghi acknowledged on Thursday that economic growth in the Eurozone was likely to be weaker than earlier expected due to the fall-out from factors ranging from China's slowdown to Brexit. With Thursday's decision, the ECB's deposit rate, now its main benchmark, remains at -0.40 percent while the main refinancing rate, its key rate during normal times stands at 0 percent.
Argentina
The central bank of Argentina said it bought $50 million at an average price of 37.597 pesos per dollar in the foreign exchange market on Tuesday, part of its effort to maintain the currency in a trading band agreed with the International Monetary Fund. Hit by concerns over the Argentina's ability to meet its debt obligations, the peso lost half of its value against the dollar last year. The central bank last year adopted a super-tight monetary policy late that boosted the currency. This month the strengthening peso started slipping outside the limits of the non-intervention band agreed with the IMF.
Venezuela
Juan Guaido, the Venezuela's opposition leader, declared himself interim president on Wednesday, winning backing from Washington and parts of Latin America. This caused socialist Nicolas Maduro, the country's leader since 2013, to break relations with the United States. Donald Trump formally recognised Guaido after his announcement and praised his plan to hold elections. Similar statements followed from Canada, and right-leaning Latin American governments including Venezuela's neighbours Brazil and Colombia. At a rally on Wednesday, in the east of the capital Caracas, where hundreds of thousands Venezuelans gathered, Guaido accused Maduro of seizing power. He promised to create a transitional government that would help the oil-rich nation escape its hyperinflation economic collapse. Maduro took power in 2013 after his mentor Hugo Chavez died. As oil price sank and revenues dried up, the social welfare designed by Chavez faltered. Meanwhile, Venezuela ended up in its worst economic crisis, with hyperinflation forecast to reach 10 million percent this year. Maduro started a second term on 10th January, following a widely-boycotted election last year described by many governments as a sham.
Oil
On Tuesday oil retreated from a near two-month high in New York. Wednesday saw the price of oil slipping as the European Union seeks to find a way round US trade sanctions against Iran and on weaker US gasoline prices. Brent futures fell 0.6 percent to settle at $61.14 a barrel while the most active US West Texas Intermediate crude contract for March fell 0.7 percent to settle at $52.62. Data from the American Petroleum Institute (API) showed crude inventories increased 6.6 million barrels whilst gasoline stocks rose by 3.6 million barrels. Distillate fuels stockpiles gained by 2.6 million barrels according to data from the API.
Malta: Retail Price Index: December 2018
In December 2018, the annual rate of inflation as measured by the Retail Price Index (RPI) was 1.49 per cent, down 1.59 per cent in November. The largest upward impact on annual inflation was recorded in the Food Index, while the largest downward impact was recorded in the Household Equipment and House Maintenance Costs Index.
'The information provided on this website is being provided solely for educational and informational purposes and should not be constituted as investment advice, advice concerning investments or investment decisions, or tax or legal advice. Similarly, any views or options expressed on this website are not intended and should not be construed as being investment, tax or legal advice or recommendations. Investment advice should always be based on the circumstances of the person whom it is directed, which circumstances have not been taken into consideration by the persons expressing the views or opinions appearing on this website. Timberland Securities Investment plc has not verified and consequently neither warrants the accuracy nor the veracity of any information, views or opinions appearing on this website. You should always take professional investment advice in connection with, or independently research and verify, any information that you find or views or opinions which you read on our website and wish to rely upon, whether for the purpose of making and an investment decision or otherwise. Timberland Securities Investment plc does not accept liability for losses suffered by persons as a result of information, views of opinions appearing on this website. This website is owned and operated by Timberland Securities Investment plc (reg. No. C68856) of Aragon House Business Centre, Dragonara Road, St Julian's STJ 3140.'