"G7 Summit in Biarritz…"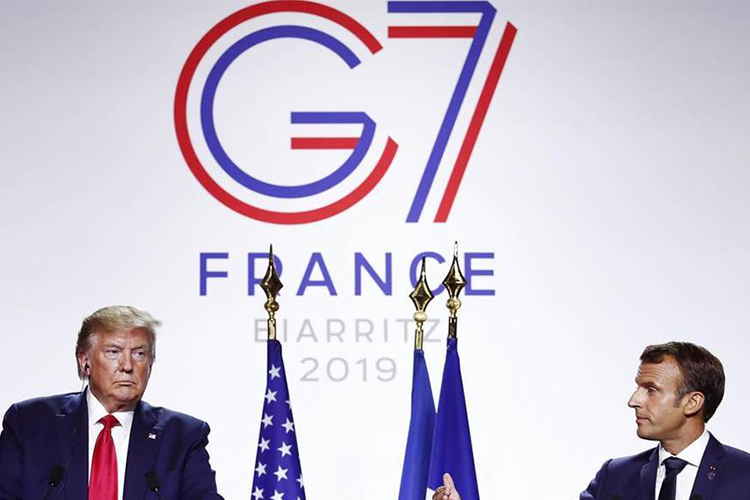 G7 Summit in Biarritz
The leaders of the world's major industrialised nations met at the French coastal resort of Biarritz on Saturday. Sharp differences emerged in areas such as global trade tensions, Britain's exit from the EU and how to respond to the fires raging in the Amazon rainforest. Emmanuel Macron, the French president, planned the three-day meeting as an opportunity to unite the group. The agenda set by Macron for France, Britain, Canada, Germany, Italy, Japan and the United States were defence of democracy, gender equality, education and the environment. Furthermore, he invited Asian, African and Latin American leaders to join them for a global push on these issues. France on Monday issued a short statement at the end of the G7 meeting on several issues such as trade, Iran, Libya, Ukraine and Hong Kong. The statement said that the seven industrialized nations were committed to open and fair world trade and to global economic stability. It said they wanted significant changes to the World Trade Organisation to make it more efficient in protecting intellectual property, resolving disputes more quickly and eradicating unfair trade practices.
Italy's Political Situation
On Tuesday the two parties trying to form a new Italian government made progress towards a coalition deal, cheering financial markets. The political crisis started on 8th August when Matteo Salvini, the leader of the far-right League party withdrew from the governing coalition with the Five-Star Movement and called for snap elections. He tried to capitalise on his surging popularity. After setbacks early on Tuesday the talks between the anti-establishment 5-Star and the centre-left Democratic Party (PD) appeared to be back on track later in the day, with upbeat comments from both sides prompting a strong market rally. The move did not go to plan, as the 5-Star and the PD seek to form a coalition of their own, pushing the League into opposition. There are deep internal divisions in both parties, each one is split between leadership factions that want a deal and others that would prefer to risk an election. Italian 10-year bond yields fell to three-year lows, and the spread between the German Bunds narrowed to below 182 basis points, the tightest since May 2018. Meanwhile, on Wednesday both 5-Star and the PD told the president they were willing to lay aside their longstanding animosity and try to form an administration with Conte. On Thursday President Sergio Mattarella handed Giuseppe Conte a fresh mandate to put together a new coalition of the 5-Star Movement and opposition Democratic Party (PD). The two sides still need to agree on a shared policy platform and team of ministers, however, 5-Star chief Luigi Di Maio and his PD Nicola Zingaretti said they pledged to find common ground for the good of the country. The prospect of a new administration led by Conte has cheered up the markets which are betting that Italy will get a fiscally prudent government that will avoid confrontation with Europe. Before Sergio Mattarella gave the mandate to Conte to form a new administration, Italian government bonds had maintained their recent rally into Thursday. The yield on the 10-year debt traded at an all-time low and the spread between Italian and German 10-year debt was at 166 basis points, its tightest since May 2018.
Brexit
The British pound rose on Tuesday as opposition parties vowed to work together to try and prevent a no-deal Brexit. Next week parliament returns from the summer holidays and is preparing for a battle with Prime Minister Boris Johnson, who has pledged to take Britain out of the EU at the end of October with or without an exit agreement. Jeremy Corbyn, the labour leader, hosted talks with other opposition parties and they agreed to try and stop a no-deal Brexit, including through passing legislation and a vote of no-confidence in the government. Investors are concerned that Britain is heading towards a no-deal Brexit on 31st October that could disrupt trade flows and weaken the economy. Many are those to believe that the currency has also moved too much downwards. Prime Minister Boris Johnson decided to suspend Britain's parliament for more than a month before Brexit. This move will limit the time that opponents have to prevent a disorderly Brexit and increases the chances that Johnson could face a vote of no-confidence in his government and possibly an election. Queen Elizabeth has approved the Prime Minister's plan to suspend parliament, a statement from the official body of advisers to the Queen, known as the Privacy Council, said on Wednesday. The statement confirmed that parliament would be suspended on a day between 9th September and 12th September until 14th October.
German Business Morale
The Munich-based Ifo economic institute said on Wednesday that its business climate index fell to 99.2 in April from an upwardly revised 99.7 in March. Trade tensions hurt the largest European economy, leaving domestic demand to support slowing growth. Furthermore German exporters are struggling with weaker demand from abroad amid the trade tensions triggered by US President Donald Trump, and business uncertainty over Brexit.
German Inflation
German Inflation slowed unexpectedly for the second consecutive month in August, data showed on Thursday. German consumer prices, harmonised to make them comparable with inflation data from other European Union countries, rose by 1 percent year-on-year after an increase of 1.1 percent in the previous month, said the Federal Statistics Office.
US Weekly Jobless Claims
The number of Americans filing applications for unemployment benefits rose moderately, indicating sustained labour market strength despite slowing economic growth. The pace of employment gains remains well above the roughly 100,000 jobs needed per month to keep up with growth in the working-age population. Sustained labour market strength is supporting the economy through strong consumer spending. This helps in calming the concerns of a recession. On Thursday the Labour Department said, the initial claims for state unemployment benefits increased 4,000 to a seasonally adjusted 215,000 for the week ended 24th August. The pace of job growth has been slowing since 2018. The government estimated last week that the economy created 501,000 fewer jobs in the 12 months through March 2019 than previously reported, the biggest downward revision in the level of employment in a decade.
US Second-Quarter GDP Growth
The US economy slowed a bit more than initially expected in the second quarter as the stronger growth in consumer spending in 4 ½ years was offset by the declining exports and a smaller inventory build. The Commerce Department in its second reading of second quarter GDP on Thursday said that Gross domestic product increased at a 2 percent annualised rate. In the January-March quarter, the economy grew at a 3.1 percent whilst in the first half of the year it expanded 2.6 percent. The economic expansion which is now in its 11th year, is under threat from the trade war between the US and China which has undercut business investment and manufacturing.
Trade War Between The US And China
US President Donald Trump said on Monday that he believed China was sincere about wanting to reach a trade deal, while Chinese Vice Premier Liu He said China was willing to resolve the dispute through "calm" negotiations. Concerns came back after China's foreign ministry said it did not hear of any recent telephone call between the US and China on trade. Meanwhile, the Trump administration on Wednesday officially stamped its extra 5% tariff of $300 billion on Chinese imports and set collection dates of 1st September and 15th December. China and the US are discussing the next round of face-to-face talks scheduled in September but hopes for progress depend on whether Washington can create favourable conditions, said China's commerce ministry.
Markets Wrap
After another blow between the US and China over tariffs at the week ending 24th, technology stocks led European equities to a tumble and investors fled to riskier assets. Hours after China had unveiled tariffs on $75 billion worth of US products, Washington announced last week an additional 5 percent duty on $550 billion in targeted Chinese goods. Furthermore, Trump demanded that the US companies move their operations out of China. On Sunday however Trump appeared to back off on his threat to order US companies move their operations out of China. European shares stabilised on Monday as the potential of coalition arrangement to form a new government in Rome and the trade tensions between the US and China somewhat eased. After a sell-off on Friday of week ending 24th, the pan-European STOXX 600 index recovered flat. Also as Monday was a public holiday, trading volumes were thin. Meanwhile European Equities dropped but recovered, after President Donald Trump said that Beijing had contacted Washington to say it wanted to return to the negotiating table. Trade-sensitive auto-stocks led the gains on the benchmark, after falling 2 percent in the previous session after China announced new tariffs on certain US goods. Meanwhile Italian markets outperformed with Milan's FTSE MIB closing 1 percent higher as the opposition Democratic Party (PD) and the anti-establishment 5-Star Movement moved closer to a deal on forming a coalition government. Monday saw US Treasury yields tumbling to a multi-year lows as the trade war hit confidence in the global economy and boosted the demand for safe-haven bonds. Whilst the 10-year Treasury yield fell to its lowest since mid-2016 at 1.443 percent, the US 2-year yield hit its lowest since September 2017 at 1.449 percent and was down 8 bps on the day. The US 2-year/10-year yield curve remained inverted. On Wednesday the EU's government bond yields edged back towards record lows as a key part of the US Treasury curve inverted further, raising the concerns that a recession is coming. Italy's bond yields steadied after posting their biggest oneday loss in almost two months on Tuesday as the government moved towards the formation of a new government. The US treasury yield curve as measured by the gap between 2 and 10-year bonds, is at its most inverted since 2007 on fears that US/China trade tensions will lead the economy into recession. The US bond yield is highly regarded as a key recession indicator. Meanwhile, in Japan the 30-40 year bond government bond yields hit three year lows on Wednesday. Thursday saw European stocks slightly lower in early trading as fears of a global recession and Brexit kept investors away from risky assets.
Currency Roundup
China's yuan weakened for the ninth straight session on Tuesday as investors were left sceptical of the chances for a near-term deal to solve the trade war. The central bank set a daily midpoint that was stronger than traders expected, raising hopes that it was again trying to stabilise the currency. The yuan has lost nearly 3 percent against the dollar since 1 August when US President Donald Trump threatened to slap more tariffs on Chinese goods. The Brexit jitters boosted the dollar. In fact on Wednesday the dollar rallied as Prime Minister Boris Johnson moved to suspend the British parliament for more than a month before Brexit, infuriating opponents and raising the stakes in the country's most serious political crisis in decades. China's yuan extended losses for the 11th day on Thursday effected by the corporate demand for dollars as Washington and Beijing prepare to impose new tariffs on each other's goods. The yuan stumbled, despite the firmer than expected central bank guidance through its daily fixing and state bank support. Before the market opened, the People's Bank of China lowered its official midpoint marginally to a fresh 11 ½ year low to 7.0858 per dollar, but at a level firmer than traders had expected. On the same day the pound dropped again after British Prime Minister Boris Johnson suspended parliament for more than a month to dodge a possible no-confidence vote and take Britain out of the EU on 31st October.
Gold
Gold prices jumped more than 1 percent to surpass the $1,550 per ounce mark for the first time in more than six years on Monday as investors fled to safe-haven asset driven by the heightened US-China trade dispute. Reflecting the increased investor interest in gold, holdings of SPDR Gold Trust GLD, which is the world's largest gold-backed exchange traded fund, rose 0.6 percent to 859.83 on Friday 24th. On Tuesday the price of gold increased further as trade disputes kept investors on edge and were driven into investing in the safe haven gold.
Oil
Oil prices rose on Monday after the US and China both suggested they could ease up the trade tensions that has undermined the global economy and the demand for crude. US energy companies cut the most oil rigs in about four months last week, with the rig count falling to the lowest since January 2018, as producers cut spending on new drilling and completions. Oil prices increased more than 1 percent on Tuesday after Donald Trump predicted a trade deal with China following positive comments by Beijing. Concerns over the round of tariff hikes eased. On Wednesday oil prices rose nearly 2 percent after a larger than expected decline in US crude stockpiles helped ease worries about weakening oil demand caused by the trade war between Washington and Beijing. The Energy Information Administration said that US crude oil inventories fell last week by 10 million barrels.
Malta: Industrial Producer Price Indices – July 2019
Comparing July 2019 with July 2018, the industrial producer price index went up by 1.75 percent amid an increase of 2.68 percent in intermediate goods, 1.95 percent in capital goods, and 1.43 percent in consumer goods. No price changes were registered in the energy sector. During June 2019, the producer price index for the total industry registered a decrease of 0.47 percent over the previous month. This was due to a price drop of 1.13 percent in intermediate goods. There were no price changes in the other sectors.
Malta: Unemployment Rate July 2019
In July 2019, the seasonally adjusted monthly unemployment rate was 3.4 percent, whereby for males it was 3.3 percent with the unemployed males as the major contributor to the overall unemployment. Furthermore, during the month under review the seasonally adjusted unemployment rate for persons aged 15 to 24 years (the youth unemployment rate) was 9.8 percent while the rate for the 25 to 74 age group stood at 2.6 percent.
'The information provided on this website is being provided solely for educational and informational purposes and should not be constituted as investment advice, advice concerning investments or investment decisions, or tax or legal advice. Similarly, any views or options expressed on this website are not intended and should not be construed as being investment, tax or legal advice or recommendations. Investment advice should always be based on the circumstances of the person whom it is directed, which circumstances have not been taken into consideration by the persons expressing the views or opinions appearing on this website. Timberland Securities Investment plc has not verified and consequently neither warrants the accuracy nor the veracity of any information, views or opinions appearing on this website. You should always take professional investment advice in connection with, or independently research and verify, any information that you find or views or opinions which you read on our website and wish to rely upon, whether for the purpose of making and an investment decision or otherwise. Timberland Securities Investment plc does not accept liability for losses suffered by persons as a result of information, views of opinions appearing on this website. This website is owned and operated by Timberland Securities Investment plc (reg. No. C68856) of Aragon House Business Centre, Dragonara Road, St Julian's STJ 3140.'