"G20 Summit…"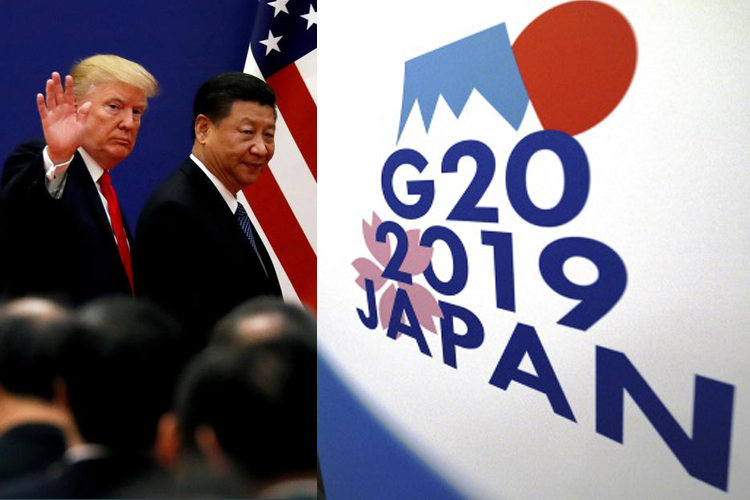 G20 Summit In Osaka, Japan

World leaders are meeting in Osaka, Japan, for a summit of the Group of 20 (G20) big economies, on Friday and Saturday. The other issues that are likely to dominate the meeting, hosted by Japanese Prime Minister Shinzo Abe, besides the meeting of the presidents of the US and China, are global growth, climate change, Iran and oil, and Ocean Trash. Traders will be keeping an eye on the meeting between President Donald Trump and Chinese President Xi Jinping at 11.30 am on Saturday in Osaka. The meeting will be the first time since they last met in May, when trade talks between the world's two largest economies broke down and the United States accused China of going back on pledges it made. US President Donald Trump has agreed to no preconditions for the high stake meeting with the Chinese President Xi Jinping and is keeping his threat to impose new tariffs on Chinese goods, said White House economic adviser Larry Kudlow on Thursday.
Trump Signs Execution Order Imposing Sanctions

US President Donald Trump targeted Iranian Supreme Leader Ayatollah Ali Khamenei and other top Iranian officials with sanctions on Monday, by forming an executive order, whilst taking an unprecedented step to increase pressure on Iran after Tehran's downing of the American drome. Whilst US Treasury Secretary Steven Mnuchin said this would lock billions of dollars in Iranian assets, according to Trump, the sanctions, "will deny the Supreme Leader and the Supreme Leader's office and those closely affiliated with him and the office, access to key financial resources and support." Trump told reporters that the sanctions were in part a response to last week's downing of a US drone by Iran, but would have happened anyway. The aim of the latest sanctions are aimed at denying Iran's leadership to financial resources, blocking them from using the United States financial system or having access to any assets in the United States financial system or having access to any assets in the United States. The US Treasury Department also said that that sanctions were also imposed on eight senior commanders of Navy, Aerospace and Ground Forces of the Islamic Revolutionary Guards Corps (IRGC).
Fed's Chairman Jerome Powell

Chairman Jerome Powell, at the Council on Foreign Relations in New York, defended the independence of the central bank from US President Donald Trump and financial markets, as both seem to be pushing for aggressive rate cuts. He said, "the Fed is insulated from short-term political pressures". When asked about the possibility of disappointing markets by not delivering a cut, Powell said, "We're not in the business, really, of trying to work through short term movements in financial conditions. We have to look through that." He further added that he and his colleagues are presently tackling whether uncertainties around the US tariffs, Washington's conflict with trading patterns and tame inflation require a rate cut.
The Withdrawal Of India's Tariff Hike

On Thursday US President Donald Trump demanded India to withdraw retaliatory tariffs imposed by New Delhi this month as he calls the duties "unacceptable" signalling the deteriorating trade ties between the two countries. Meanwhile President Trump will meet India's Prime Minister Modi at this week's G20 summit in Japan. India slapped higher duties on 28 US products after the United States withdrew tariff-free entry for certain Indian goods. Furthermore Washington is also upset with New Delhi's plans to restrict cross-border data flows and impose stricter rules on e-commerce that hurt US firms operating in India.
Boris Johnson And The 'No-Deal' Brexit

Boris Johnson who is the front runner to become the British prime minister said he will seek a new Brexit deal with the European Union but if the bloc refuses his demands then he will lead the world's fifth largest economy out without agreement on 31st October. Meanwhile, the British parliament has indicated its opposition to a no deal exit. A no-deal means there will be no transition period so the exit would be abrupt. He repeated a warning that there would be "creative ambiguity" about when and how a previously agreed 39 billion-pound exit bill gets paid. Boris said he did not want a no-deal Brexit, which investors warn would roil financial markets and send shockwaves through the European economy. A no deal Brexit was necessary to put it on the table so that Britain could get the result it wanted. With regards to resolving the impasse around the Irish border, Johnson said he thought changing or abandoning the backstop, a guarantee to ensure no return of hard border checks between the EU member Ireland and the British-run Northern Ireland which could be the way forward.
Germany Business Confidence

The Ifo Business climate index fell to the weakest level since 2014, at 97.4. Meanwhile a gauge of expectations also worsened. As trade tensions weighed on manufacturers, a slump in German business confidence deepened. The trade war has affected Europe's largest economy for months, leading to a manufacturing slump and boosting fears that domestic demand will be undermined. Meanwhile, Bundesbank President Jens Weidmann expects an improvement in Germany in the second half of the year as exports recover. A purchasing managers survey on Friday of last week showed solid growth in services, whilst manufacturing remained in contraction.
Italy's Fiscal Targets

A report that the European Commission will this week hold off on disciplinary action over Rome's fiscal targets, lifted hopes that a compromise with Brussels will be reached. With the news, Italy's government borrowing costs fell, with the 10-year bond yield dropping as much as 9 basis points to 2.076 percent at one stage, nearing more than one year low hit last week. By mid-morning the yield was back to 2.12 percent which continues to reflect the political uncertainty that has impacted Italy's over the past year. Deputy Prime Minister Matteo Salvini last week threatened to resign unless he was able to push through at least 10 billion euros of tax cuts. The Commission wants Italy to reduce its debt this and next year and has opposed the wide tax cut plans of the ruling coalition if they are not offset by new revenues or a reduction in spending. These options have been dismissed by Rome.
Euro-Area Confidence Drops

Euro-area economic confidence declined more than forecast in June, dropping to its lowest level since 2016 amid trade tensions and as more cautious outlook for the global economy weigh on business and consumer sentiment. The European Commission's gauge of sentiment fell to 103.3 points, whilst in May it stood at 105.2 points. The sharp decline in confidence came along industry executives who saw the most significant decrease in about eight years. Managers in the industrial sector were more pessimistic on all fronts with regards to their expectations for production, their level of order books and their stocks of finished products. The services confidence also fell but less quickly than in the industrial sector, highlighting its relative resilience. Consumers have more of a negative outlook about the general economic situation. The sentiment figures for June appear to show that an unexpected uptick in May was most likely another outlier and that economic confidence is continuing a downward trend that initiated about a year ago. The confidence report from the European Commission showed sharply weaker figures in Germany and a decline in sentiment in Italy, France, the Netherlands and Spain.
Currency Roundup

Sterling pulled back from a one-month high on Monday mainly hit by the selloff in the dollar as traders were reluctant to take big positions on the pound until the Conservative Party Leadership contest is over. The US dollar fell to a three-month low against the euro and dropped to its weakest against the Japanese yen since early January as last week the US Federal Reserve signalled a drop in the demand for the dollar. Meanwhile the euro hit a three-month high of $1.1412 having gained 2 percent from a two-week low of $1.1181 reached a week ago. It last stood at $1.1396. The Yen has benefited from investor nerves over tensions between the US and Iran. The New Zealand dollar bounced against the greenback after the nation's central bank skipped the chance to cut interest rates at a policy meeting, leaving the cash rate at 1.5 percent as expected. The dollar index against a basket of currencies on Wednesday stood at 96.289 just above a three-month low of 95.84 touched on Tuesday. Meanwhile the dollar against the yen rose 0.25 percent to 107.44 yen rebounding from 106.77 yen, which is the lowest level since its first crash in early January. On Wednesday the British pound slipped 0.23 percent to $1.267 as it remains effected by concerns that Eurosceptic Boris Johnson will become Britain's next prime minister, increasing the chance of a no-deal Brexit. The euro was little changed at $1.1356 pulling back slightly from a three-month high of $1.1412. China's yuan slipped to its lowest level in a week against the dollar on Wednesday, pressured by seasonal corporate demand for the greenback. On Tuesday the People's Bank of China (PBOC) set the yuan's mid-point rate at 6.8701 per dollar which is 121 pips weaker than the previous fix of 6.858. The market focus remains the meeting of President Trump and Chinese president Xi Jinping during the G20 gathering. Wednesday also saw the US Dollar rising significantly versus the yen, on comments from US Treasury Secretary Steven Mnuchin about a trade deal between the US and China being "about 90 percent" complete. The dollar edged up to a one-week high against the yen on Thursday as some of the jitters ahead of the G20 summit in Japan eased on hopes that there will be progress in resolving the US-China trade war.
Market Wrap

US Treasury yields fell on Monday, holding just above almost three-year lows ahead of the trade talks between the US and China later this week. The yields on 10-year Treasuries have dived 120 basis points since November and at 1.99 percent, are almost back to the level they were when Trump was elected in late 2016. Meanwhile, the German 10-year bund yields hit a new record low of 0.332 percent down 2 basis points on Tuesday. Tuesday saw European shares hit by the Iran tensions and trade jitters, with the pan-European STOXX 600 index falling 0.3 percent. Although investors still appear to be predicting an interest rate cut by the FED next month as it meets again on 30 to 31 July, on Tuesday they scaled back on their aggressive bets that the cut would be half a percentage point. The Fed will gather again on 30 to 31 July. Meanwhile policymakers will be closely watching data on US economic growth, jobs and the G20 Summit in Osaka, Japan at the end of the week where Trump is due to meet one-on-one with at least eight world leaders, including Chinese President Xi Jinping for discussions on trade. The scaling down in expectations for large rate cuts from the FED also knocked gold prices by more than 1 percent putting the precious metal on the way for its first decline in seven trading sessions. Renewed optimism helped prop up European shares in early dealings on Thursday after a report said the United States and China have reached a tentative truce ahead of highly anticipated G20 summit this weekend. The report also helped Asian stocks gain overnight and eased investor's concerns ahead of the summit. Meanwhile, the S&P 500 and the Nasdaq closed higher in a broad-based rally on Thursday as investors looked to the G20 summit in Osaka, Japan.
Oil

Oil prices climbed for than 1 percent on Wednesday to their highest in nearly a month as industry data showed US crude stockpiles fell more than expected. Data from the American Petroleum Institute (API) seems to have contributed to the gains showing a fall in US crude inventories. US President Donald Trump threatened on Tuesday to obliterate parts of Iran if it attacked "anything American" in a new war of words with Iran. Meanwhile Tehran condemned a fresh round of US sanctions as "mentally retarded". On Wednesday US crude oil stocks fell by nearly 13 million barrels last week, the which is the most in nearly three years, as exports hit a record high, said the Energy Information Administration.
Gold

On Tuesday Gold hit their highest level since 14th May, 2013 at $1,438.63. Holdings of SPDR Gold Trust GLD, the world's largest gold-backed exchange traded fund, fell 0.3 percent to 799.61 tonnes on Tuesday from 801.96 tonnes on Monday. In the current situation of expectations of lower interest rates and concerns over the trade tensions between the US and China investors are looking for other alternative assets such as gold. The weaker dollar is also an incentive to investors to shift to gold. Gold prices slipped more than 1 percent on Wednesday moving away from a six-year peak hit on Tuesday as investors locked in profits following a strong rally. Spot gold was down 1.1 percent at $1,406.91 per ounce heading for its first decline in seven sessions. Meanwhile, the demand for gold in India could fall to its lowest level in three years as a rally in local prices to a record high dents retail purchases.
Reserve Bank Of New Zealand (RBNZ)
The RBNZ kept the official cash rate (OCR) at a record low of 1.5 percent as expected and in a dovish statement warned that global slowdown is hurting domestic economy amid intensifying trade risks. This dovish statement mirrored a recent shift by global central banks to ease monetary policy to combat the rising economic risks amid the US-China trade war, corporate profits and overall growth.
Bitcoin

Bitcoin is up 240 percent since the start of the year, however, remains below its all-time high of nearly $20,000. Bitcoin jumped to an 18-month high on Wednesday whereby according to analysts the surge was caused by nervous traders looking for the safety in alternative investments and the interest caused by Facebook's Libra. Facebook revealed plans to establish a cryptocurrency called Libra on Tuesday of last week. Libra will be a digital currency backed by a reserve of real-world assets, including bank deposits and short-term government securities, held by a network of custodians. The expected launch is the first half of 2020. Bitcoin has increased for eight consecutive days. Analysts said that Facebook announcement this month has revived the interest in coins. Since May the cryptocurrency has increased 150 percent, with other smaller digital currencies such as Ethereum and Ripple also climbing.
Malta: Industrial Producer Price Indices: May 2019

During May 2019, the industrial producer price index registered an increase of 1.2 percent when compared to the same month of last year. This increase was due to a rise of 2.06 percent in intermediate goods, 1.3 percent in consumer goods and 0.06 per cent in capital goods. Meanwhile no price changes were registered within the energy sector. When compared to the month of April 2019, during May 2019 the producer price index for the total industry registered an increase of 0.38 percent over the previous month. This was due to a price rise of 1.02 percent within the intermediate goods but mitigated by a drop of 0.13 percent in the consumer goods sector. There were no changes within the energy and capital goods sectors.
Malta: Registered Unemployment May 2019

In May, the number of persons registering for work stood at 1,669 decreasing by 6.8 percent when compared to the corresponding month in 2018. The majority of men and women on the unemployment register sought occupations as clerical support workers with 19.2 percent and 40.1 percent respectively.
'The information provided on this website is being provided solely for educational and informational purposes and should not be constituted as investment advice, advice concerning investments or investment decisions, or tax or legal advice. Similarly, any views or options expressed on this website are not intended and should not be construed as being investment, tax or legal advice or recommendations. Investment advice should always be based on the circumstances of the person whom it is directed, which circumstances have not been taken into consideration by the persons expressing the views or opinions appearing on this website. Timberland Securities Investment plc has not verified and consequently neither warrants the accuracy nor the veracity of any information, views or opinions appearing on this website. You should always take professional investment advice in connection with, or independently research and verify, any information that you find or views or opinions which you read on our website and wish to rely upon, whether for the purpose of making and an investment decision or otherwise. Timberland Securities Investment plc does not accept liability for losses suffered by persons as a result of information, views of opinions appearing on this website. This website is owned and operated by Timberland Securities Investment plc (reg. No. C68856) of Aragon House Business Centre, Dragonara Road, St Julian's STJ 3140.'