"European Commission President…"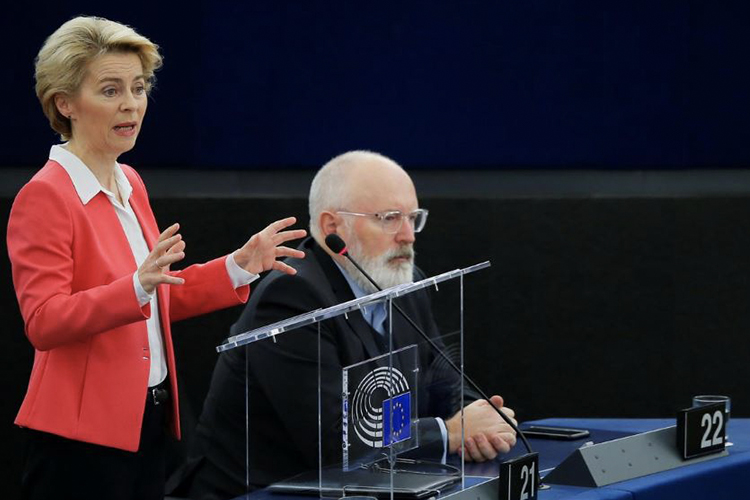 European Commission President
EU lawmakers confirmed von der Leyen as European Commission president along with her new team of 26 commissioners with 461 votes in favour and 157 against. Vond der Leyen will be the first woman to hold the EU's top job. She is a former German defense minister, who is succeeding Jean-Claude Juncker. The Commission proposes laws for the EU on everything from budget to energy, negotiates trade deals around the world and acts as the bloc's competition watchdog, approving company mergers and setting rules for global tech giants. On Wednesday she vowed to step up the fight against climate change while expanding economic growth. EU lawmakers granted final approval for the bloc's new executive she will lead on 1st December. She said any new EU trade deals would include clauses to protect the environment, and that the European Investment Bank would become the bloc's climate transition bank. In her speech she called for flexibility to be allowed under EU rules to help economies grow and promised to keep pressure on upholding democratic standards. She said she would start her five-year term on Sunday by contacting G7 and G20 countries, before heading for the UN climate conference in Madrid on Monday.
Euro Zone Economic Sentiment
Eurozone economic sentiment rebounded more than expected in November amid more optimism in the key services sector and a better mood in industry showed data from the European Commission on Thursday. The Commission's monthly survey showed that the economic sentiment in the 19 countries who share the Euro rose to 101.3 points this month from 100.8 in October. Sentiment in the services sector, which is responsible for some two-thirds of the eurozone gross domestic product rose to 9.3 from 9 in October whilst the mood in the industry improved to -9.2 this month from -9.5. Meanwhile sentiment among consumers rose to -7.2 from -7.6 and in retail trade to -0.2 from -0.9. The Commission survey also showed that inflation expectations among consumers fell in November to 19.4 from 21.5 in October.
UK Politics
With the UK heading to the polls on 12th December, the governing Conservatives, rolled out an election manifesto that promises more public sector spending and no further extensions to Brexit. They also pledged to new taxes, drawing a distinction with the opposition Labour Party that has promised to raise taxes on the rich and businesses to fund a major expansion of the state. The manifesto offered little detail on other policy areas. The prime minister said, "get Brexit done and we shall see a pent- up tidal wave of investment into this country." He also ruled out to seek any further delay to Brexit saying in the manifesto: "We shall not extend the implementation period beyond December 2020." Johnson's manifesto entitled "Get Brexit Done, Unleash Britain's Potential" pledged to freeze income tax, value added sales tax and social security payments. He promised instead a total of 23.5 billion pounds in tax cuts and day-to-day spending over four years, including on the National Health Service which would gain 50,000 nurses. While his pledges amount to a day- to-day spending increase of 2.9 billion pounds a year by the 2023/24 financial year, Labour's planned annual spending increase shall amount to 83 billion-pounds by that same year. Another spending commitment announced earlier by Labour was to compensate more than three million women who lost years of state pension payments when their retirement age was raised. Whilst Johnson, is being portrayed by the opposition party as being in the pockets of billionaires, he said he was targeting his measures towards those who are less well-off.
Trade Talks
Top trade negotiators from China and the US held a phone call on Tuesday morning, said China's Commerce Ministry as the two countries are trying to reach a preliminary "phase one" deal. Chinese Vice Premier Liu He spoke with US Trade representative Robert Lighthizer and US Treasury Secretary Steven Mnuchin. The discussed issues related to a phase one deal and agreed to maintain communication on remaining issues on phase one talks, said the ministry. The call on Tuesday took place amid heightened tensions on various matters between Beijing and Washington, with China saying on Tuesday that it had summoned US Ambassador Terry Branstad on Monday to protest against the passage in the US Congress of the Hong Kong Human Rights and Democracy Act. According to China's foreign ministry the legislation amounted to interference in a Chinese internal matter. Since Wednesday investors are becoming more hopeful of a trade deal between Washington and Beijing after US President Trump said overnight that Washington was in the "final throes" of work on a deal to defuse the trade war. If China and the US cannot reach an agreement soon, the next important date to watch is 15th December, when Washington is scheduled to impose even more tariffs on Chinese goods.
US Consumer Confidence
US Consumer confidence fell for a fourth straight month in November amid concerns about current business conditions and employment prospects. It however remained at levels sufficient enough to support a steady pace of consumer spending. On Tuesday another report showed an unexpected drop in new home sales last month, but data for September was revised higher to show purchases hitting their highest level in over 12 years. The housing market is sensitive to the changes in interest rates, and it seems that the easing monetary stance taken by the FED that has lowered the mortgage rates from last year's multi-year highs, is having a positive impact on this market. Housing accounts for a fraction of the gross domestic product. The rise in housing activity early in the fourth quarter together with a narrowing in the trade deficit suggest some support for the economy as it slows amid cooling consumer spending and a weakness in business investment and manufacturing. The Conference Board said that its consumer confidence index slipped to a reading of 125.5 this month from an upwardly revised 126.1 in October (previously reported at 125.9). The survey's present- situation measure, based on consumers' assessment of current business and labour market conditions fell to 166.9 this month from 173.5 in October. The expectations index drawn from consumers' short-term outlook for income business and labour market conditions rose to a reading of 97.9 from 94.5 in the previous month. Meanwhile in a separate report the Commerce Department said that the goods trade deficit dropped 5.7 percent to $66.5 billion in October, driven by further declines in both exports and imports. The shrinking trade gap is positive for the calculation of GDP and suggests trade could support the economy in the fourth quarter. The continued drop in both exports and imports is of concern. It seems that the policy of the White House of putting America first was having a declining effect on trade flows.
US Weekly Jobless Claims
The number of Americans filing applications for unemployment benefits fell last week, but the underlying trend suggest some softening in the labour market conditions. The initial claims for state unemployment benefits declined 15,000 to a seasonally adjusted 213,000 for the week ended 23rd November, said the Labour Department on Wednesday. Meanwhile, data for the prior week was revised to show 1,000 more claims received than was previously reported. Gains in employment have slowed this year, averaging 167,000 per month compared with an average monthly gain of 223,000 in 2018, mainly because of the 16 month trade war between the US and China. The unemployment rate is at 3.6 percent.
The International Monetary Fund (IMF) and Japan
The IMF urged the Bank of Japan to consider steps to ease the strains caused by its ultra-loose policy on financial institutions, such as targeting a shorter maturity for its long-term bond yield target. The IMF said that fiscal policy can complement the BOJ's efforts to protect the economy from overseas risks. The IMF said, while the central bank has to maintain its massive stimulus programme, it must also find ways to mitigate the rising cost of prolonged easing to make its policy sustainable as inflation remains distant from its 2 percent target. In its Article 4 policy proposal to Japan on Monday the IMF said, "Strengthening the effectiveness of coordination between monetary and fiscal policy remains a high priority." IMF Managing Director Kristalina Georgieva in a news conference said that, "as it stands, both fiscal policy and monetary policy are stretched, leaving limited room to respond to shocks". She also said after the Article 4 consultations, "The BOJ's accommodative stance needs to continue to support reflation and growth. At the same time, financial sector oversight should be strengthened to mitigate rising financial stability risks." Under a policy of YCC (Yield curve control) the BOJ pledges to guide short term rates at -0.1 percent and the 10-year bond yield around 0 percent. While the policy has helped to keep corporate borrowing costs low, it has flattened the yield curve and lowered the margin commercial banks earn from lending. In this regard, the IMF said that one way to ease the impact on financial institutions could be to steepen the yield curve by shifting the BOJ to 0 percent target for the 10-year yield to a shorter maturity. It also said that the BOJ should also make its 2 percent inflation target more flexible, long term goal by adopting a target range for price moves, as structural factors such as technological innovation may keep inflation low for a prolonged period.
Federal Reserve Chair Jerome Powell
Federal Reserve Chair Jerome Powell said on Monday that monetary policy was "well positioned" to support the strong US labour market, which is now starting to benefit workers on the margins. He also added that low inflation data has prompted Fed officials to lower their estimates for the neutral interest rates that would not stimulate the economy. It also helped economists to realise that the natural rate of unemployment, at which the economy is running at full potential without causing inflation, is also lower than previously thought, he said. He said that Fed officials have favourable outlook for the US economy founded on strong consumer spending, which is bolstered by a robust job market, increasing incomes and solid consumer confidence. He also said that weak global growth and trade uncertainty are holding back growth and that policyholders will "respond accordingly" if economic data leads to a "material reassessment" of their economic outlook.
US Economy Picks up in 3rd Quarter
US economic growth picked up slightly in the third quarter and there are signs that business investment may be drawing to a close. The growth reported by the government on Wednesday comes along data showing that the number of Americans filing claims for unemployment benefits dropped last week, after standing at a five-month high for two straight weeks. Meanwhile, labour market strength should continue to support consumer spending, which appears to be slowing. The reports are painting a better picture of the American economy which is now in its 11 year of expansion The Commerce Department said in its second estimate of the third quarter GDP, that gross domestic product increased at a 2.1 percent annualised rate. That was up from the 1.9 percent pace it estimated last month.
Japan Retail Sales
Japan's retail sales tumbled at their fastest pace in more than 4 ½ years in October amid a sale tax hike that prompted consumers to cut down on spending. On 1st October the Japanese government increased the nationwide sales tax to 10 percent from 8 percent in order to fix the industrial world's heaviest public debt burden, which is more than twice of the size of the country's gross domestic product. Retail sales fell 7.1 percent in October from a year earlier, amid weak demand of cars, household appliances, and clothing, showed trade ministry data on Thursday. Department stores were hit particularly hard. This was the biggest drop since a 9.7 percent which happened in March 2015. Seasonally adjusted retail sales dropped 14.4 percent month-on-month in October, data showed. The negative reading comes after separate data this month showed that Japan's economy nearly stalled in the third quarter, while exports in October shrank at their fastest pace in three years. The situation has called for the government to come up with a big spending package to keep the country's fragile economic recovery on track.
Currency Roundup
Positive news from the US-China trade front lifted market sentiment on Monday turning the Japanese yen to a one-week low and fuelling 0.2-0.3 percent gains on trade-focused currencies amongst them the Norwegian crown to the New Zealand dollar. The Sterling climbed too as opinion polls continued to point to a firm lead for Prime Minister Boris Johnson's Conservative Party. The dollar was little changed against a basket of currencies on Tuesday as traders looked at the latest developments in the US-China trade talks for direction. The dollar was pushed higher on Wednesday at $1.10 level against the euro, as it was boosted by more talks of a deal to resolve the US-China trade dispute. The dollar also increased versus the yen towards three-week highs, gaining another 0.1 percent to 109.18 yen on Wednesday. Meanwhile, the Australian dollar skidded 0.1 percent to $0.6779 as investors bet on further easing by the Reserve Bank of Australia. Expectations for more policy easing having weighed on the Aussie, which is highly correlated to global investor sentiment and the outlook for China, despite optimism over a trade deal. The Sterling slipped another 0.2 percent to $1.2843 a day after polls showed a narrowing in the Conservative Party's lead ahead of the 12th December general election. On Wednesday sterling was slightly higher recovering from early losses following the third poll in a row that showed a dwindling Conservative lead before Britain's 12th December election. The pound fell as much as 0.3 percent against the dollar, to a low of $1.2827 in early London trading, before recovering to trade around $1.2889. Against the euro, the pound was up around 0.3 percent at 85.41 pence.
Markets Wrap
World shares took a cautious rally on Monday as investors held out for some progress in the trade talks between the US and China. Eurozone bond yields rose slightly in early London trading on Monday with market sentiment slightly lifted over the weekend as China was seeking to raise substantially the upper limits for intellectual property violation fines. Meanwhile, the pan-European STOXX 600 index was flat, after gaining more than 1 percent following a report that the US and China were close to a trade agreement. European shares were little changed on Tuesday after a strong start to the week, as investors tried to find signs of any progress in the trade talks between the US and China. Meanwhile, US Treasury yields fell alongside British government debt on Tuesday. The expectations that the Federal Reserve will keep rates on hold kept the yield curve near as flat as ever for almost a month after the British polls showed that the ruling Conservatives were the favourites to win the 12th December election. Short dated debt has been supported by expectations that the US Fed will be on hold for the intermediate term, after three cuts this year. The 10-year gilt yield fell to its lowest level since 1st November at 0.635 percent before rising to 0.642 percent, more than 5 basis points on the day. Other maturities experienced a similar drop. Eurozone bond yields were also lower on Tuesday. European shares touched a four-year high in the early trading hours on Wednesday as comments from the US President Donald Trump sparked hopes of a resolution to the trade war between the US and China. London, Frankfurt and Paris were all climbing higher, whilst Shanghai struggled after industrial company profits shrank while Australian shares had hit record highs and Japanese stocks drew support from the growing chance of extra fiscal stimulus. World shares made another push to a record high on Wednesday after the comment of President Trump that Washington and Beijing were in the final throes of an initial trade deal. Wall Street's main indexes closed at record levels for a third straight day on Wednesday, although in thin liquidity before the Thanksgiving holiday, after data showed US economic growth had picked up in the third quarter and consumer spending had increased. A four-day rally that had lifted world stocks to near record highs stopped on Thursday as a US bill backing Hong Kong's protestors became law. This threatens to delay an interim trade deal between Washington and Beijing.
Oil Prices
Oil prices rose on Tuesday amid hopes of progress towards a trade agreement between the US and China. The head of the International Energy Agency told Reuters that OPEC countries should make the right decision for a "very fragile" global economy. The oil industry group the American Petroleum Institute said US crude inventories rose by 3.6 million barrels. The US has been steadily heading into becoming a net exporter of oil due to rising exports of products and increasingly crude. There were several weeks where total oil exports outpaced imports. Wednesday saw oil prices edging lower after hitting their highest since late September on the reassuring trade headlines, with the US West Texas Intermediate crude was down 0.21 percent at $58.29 per barrel while global benchmark Brent crude lost 0.11 percent to $64.20 per barrel. Meanwhile, the Energy Information Administration said on Wednesday that US crude stockpiles rose last week as the nation's production hit another record, while gasoline inventories jumped sharply.
Malta: Industrial Producer Price Indices – October 2019
During October 2019, the industrial producer price index registered an increase of 2.22 percent when compared to the same month of the last year. This was due to an increase of 4.29 percent in intermediate goods, 1.79 percent in capital goods, and 0.91 percent in consumer goods. No price changes were registered in the energy sector. Meanwhile, during October 2019 the industrial producer price index registered a drop of 0.2 percent over the previous month. The drop was due to a price decrease of 0.51 percent in intermediate goods, whilst consumer goods went up by 0.02 percent. There were no changes in the energy and capital goods sectors.
'The information provided on this website is being provided solely for educational and informational purposes and should not be constituted as investment advice, advice concerning investments or investment decisions, or tax or legal advice. Similarly, any views or options expressed on this website are not intended and should not be construed as being investment, tax or legal advice or recommendations. Investment advice should always be based on the circumstances of the person whom it is directed, which circumstances have not been taken into consideration by the persons expressing the views or opinions appearing on this website. Timberland Securities Investment plc has not verified and consequently neither warrants the accuracy nor the veracity of any information, views or opinions appearing on this website. You should always take professional investment advice in connection with, or independently research and verify, any information that you find or views or opinions which you read on our website and wish to rely upon, whether for the purpose of making and an investment decision or otherwise. Timberland Securities Investment plc does not accept liability for losses suffered by persons as a result of information, views of opinions appearing on this website. This website is owned and operated by Timberland Securities Investment plc (reg. No. C68856) of Aragon House Business Centre, Dragonara Road, St Julian's STJ 3140.'