"Britain To Hold Election In December…"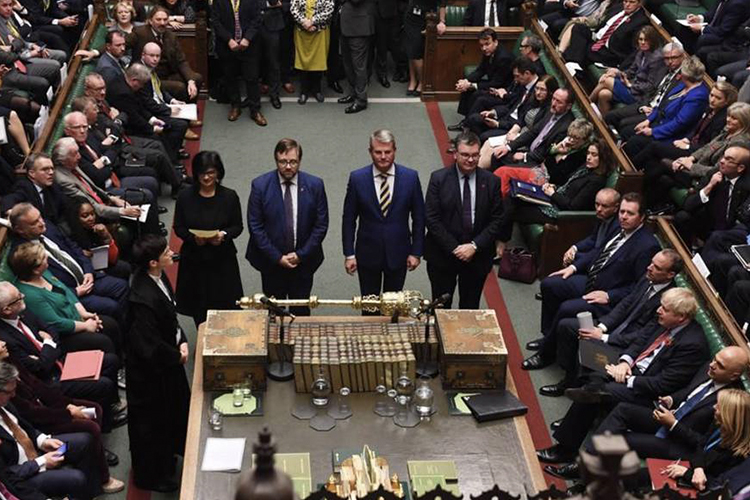 Britain To Hold Election In December
The European Union has agreed on Monday to delay Brexit until 31st January, said Donald Tusk, the bloc's chairman. "The EU27 has agreed that it will accept the UK's request for a Brexit flextension until 31st January 2020." Tusk said that the idea of a "flexible extension" means Britain could go earlier if its fractious parliament ratifies the divorce bill. Britain will hold its first December election in almost a century after Prime Minister Boris Johnson won approval from parliament on Tuesday for an early election which is aimed at breaking the Brexit deadlock. Johnson's short bill calling for a 12 December election was approved 438 to 20 in the House of Commons. The bill now goes to the House of Lords. After meeting Conservative Party lawmakers who cheered him, Johnson said, "It's time to unite the country and get Brexit done." Before the vote, Johnson said that parliament was obstructing Brexit and thus damaging the economy by preventing investment decisions and corroding the faith in democracy. The electorate will have a choice between Johnson's pushing for his Brexit deal or a socialist government under Labour leader Jeremy Corbyn renegotiating the deal before another referendum. The election result will be announced in the early hours of Friday 13th. If no party wins conclusively, the Brexit deadlock would continue. The election will decide Brexit and as well as the main players, Johnson and his rival Corbyn. Both major parties will have to fight on at least three front, that is against each other, while the hardline Brexit Party led by Nigel Farage seeks to poach Brexit voters whilst the liberal Democrats seeks to win over opponents of Brexit.
US Consumer Confidence
US consumer confidence unexpectedly fell in October amid household concerns about the short-term outlook for business conditions and jobs prospects. The Conference Board said that its consumer confidence index slipped to a reading of 125.9 this month from an upward revised figure for September which was originally reported at 125.1. The survey's present situation measure, based on consumers' assessment of current business and labour market conditions, increased to 172.3 this month from 170.6 in September. The expectations index based on consumers' short-term outlook for income, business and labour market conditions declined to 94.9 from 96.8 last month.
US Private Sector Job Growth
US private employers added 125,000 jobs in October showed a report by a payroll processor on Wednesday. The ADP figures come before the release of the US Labour Department's more comprehensive non-farm payrolls report on Friday, that includes both public and private-sector employment. Economists polled by Reuters are looking for US private payroll employment to have grown by 80,000 jobs in October, down from 114,000 the month before. Total non-farm employment is expected to have increased by 85,000. The unemployment rate is forecast to have increased by 3.6 percent from the 3.5 percent recorded the previous month.
US Economic Growth
US economic growth slowed less than expected in the third quarter as declining business investment was offset by strong consumer spending and a rebound in exports. The GDP report which was published hours before FED officials closed a two-day policy meeting, showed that the overall trend in inflation remained moderate last quarter. Gross domestic product increased at a 1.9 percent annualised rate in the third quarter, as businesses continued to accumulate inventory at a steady pace and the housing market has rebounded after contracting for six straight quarters, said the government in its advance estimate of GDP. Growth in consumer spending that accounts for more than two-thirds of the US economic activity slowed to a healthy 2.9 percent rate last quarter after climbing at a 4.6 percent pace in the second quarter, which is the fastest since the fourth quarter of 2017. The lowest unemployment rate in nearly 50 years is driving consumer confidence. Consumer confidence has been declining and wage growth stalled. Income at the disposal of households rose at a 4.5 percent rate in the third quarter when compared to the 4.8 percent pace in the prior period. Concerns about the health of the consumer were highlighted in a separate report on Wednesday showing private payrolls increased by 125,000 jobs in October after rising 93,000 in September. Job increases have been slowing this year, but still remain enough to keep up with the growth in the working population.
China's industrial Profits
Profits at Chinese Industrial companies fell for the second straight month in September as producer prices continued to drop, highlighting the impact of a slowing economy and the impact of US trade war on corporate balance sheets. Industrial profits fell 5.3 percent in September (this compared with a 2 percent decline in August) from a year earlier to 575.6 billion yuan, according to data released by the National Bureau of Statistics (NBS) on Sunday. But factory gate prices, which is considered a key barometer of corporate profitability, dropped the steepest in more than three years as economic growth touched ground to a fresh near 30-year low in the third quarter. The sector mostly hit was the oil, coal and other fuel processing industries, where profits fell 53.5 percent in the January to September period.
FED Cuts Interest Rates
The Federal Reserve on Wednesday cut interest rates for the third time this year to support the US growth. It signalled that there will be no further reductions unless the economy takes a turn for the worse. The US central bank announced its decision to cut its key overnight lending rate a quarter of a percentage point to a target range of between 1.50 percent and 1.75 percent. In a news conference Fed Chair Jerome Powell said, "We believe that monetary policy is in a good place." He further added, "We took this step to help keep the economy strong in the face of global developments and to provide some insurance against ongoing risks." "We see the current stance of monetary policy as likely to remain appropriate as long as incoming information about the economy remains broadly consistent with our outlook." During his conference Powell ticked an extensive list of reasons as to why he feels the economy is doing well, and is likely to continue to do so under the current stance of monetary policy such as robust consumer spending and strengthening home sales. He also said that the US-China trade war was "a step closer" to resolution, and it looked less likely that Britain would crash out of the EU. The outlook for the US economy continues to be for "moderate" growth, a strong labour market and inflation rising back to the FED's 2 percent annual goal, he said, and only "a material reassessment" of that outlook could drive the central bank to cut rates further from here.
Markets Wrap
Germany's benchmark 10-year Bund yield climbed to a three-month high on Monday at -0.325 percent and was up as much as 5 basis points on the day in line with the sharp rise in US Treasury yields as a sell-off in safe-haven bond markets gathered pace on positive headlines on the US-China Trade talks. After rising earlier in the day, bond yields pushed higher after the EU granted Britain a three-month extension to exit the bloc. The US-China trade deal and the expectations of another rate cut by the Federal Reserve moved the S&P 500 to a lifetime high on Monday, and the NASDAQ also pushed to within five points of its record closing high touched in late July. European shares touched their highest level since January 2018 on Monday, boosted by carmakers and miners on hopes that the US and China were closer to reaching a trade deal while a drop in the banks led by HSBC capped gains. Wall street was also set to open lower on Tuesday as investors assessed the earnings reports including those of Google parent Alphabet and big drug makers Merck and Pfizer. European shares retreated from a near two-year high on Tuesday as investors read through mixed earnings. The oil and gas sector fell 0.5 percent dragged down by British energy firm BP which reported a sharp drop in third quarter profits, hurt by weaker oil prices and lower production. US stocks opened modestly higher on Wednesday as investors were digesting on another set of earnings reports ahead of a widely expected interest rate cut by the FED later that day. Meanwhile, European shares dropped on Wednesday amid weak bank earnings and doubts over an interim US-China trade deal that spurred selling, although losses were limited by the merger talks between Fiat Chrysler and France's PSA, a deal that could reshape the global industry. Deutsche Bank fell 6 percent as it reported a loss for a second consecutive quarter due to the costs from the global restructuring. Eurozone's biggest lender Santander dropped 2 percent as net profit fell 75 percent due to one-off charges in the UK, while Swiss lender Credit Suisse lost over 3 percent after issuing a cautious 2020 outlook. Although expectations were low going into the European corporate earnings season, after three weeks the overall picture proved better than expected, with most companies modestly beating estimates. Meanwhile, Germany's benchmark 10-year bond yield fell slightly on Wednesday to below a recent 3-month high, as the European Central Bank resumed its asset purchase program and investors awaited the outcome of the US FED meeting. Wednesday also sees the ECB's introduction of tiered rates, to help mitigate the effect of negative interest rates on banks.
Currency Roundup
Sterling was little changed on Monday as traders waited to see if Brussels would grant Britain a three-month Brexit extension, while British lawmakers were expected to vote on whether to hold an early election. On Tuesday the Dollar dipped against the euro, a day before the Federal Reserve was expected to cut US interest rates while the sterling dipped as Britain looked heading into an early election in December. The increased optimism that the UK will reach a deal to avoid a disorderly exit from the EU has supported the Eur and the sterling recently. On Tuesday the pound dipped after Prime Minister Boris Johnson won the preliminary approval from parliament to hold the first December election in almost a century in a bid to break the Brexit deadlock. The sterling had risen from $1.2193 on 8th October but is below a five-month high of $1.3012 reached on 21st October. Meanwhile, the Australian dollar climbed for a third straight session against the greenback amid hopes that a US-China trade agreement will be reached. The Australian economy is highly correlated to China and on Monday, US President Donald Trump said he expected to sign a significant part of the trade deal with China ahead of schedule. The dollar index against a basket of six major currencies fell after data showed that US consumer confidence unexpectedly fell in October.
Trade Talks
US President Donald Trump said on Monday he expected to sign a significant part of the trade deal with China ahead of schedule but did not elaborate on the timing. Meanwhile the president's demand that Beijing commits to big purchases of American farm products has become a major sticking point in the trade talks between the US and China according to people briefed on the negotiations. Publicly Trump has said that China could buy as much as $50 billion of US farm products, more than double the annual amount it did the year before the trade war started. US officials are continuing to push for that in the talks but Beijing is resisting to committing to such a large figure and a specific time frame. Chinese buyers are after having the discretion to buy based on market conditions. A US administration official said on Tuesday that the two sides might not agree to a "Phase One" deal by the Asia Pacific Economic Cooperation meeting in Chile in mid-November.
Oil
Oil prices fell on Monday after strong gains last week, as data released in China reinforced that the economy is slowing, although progress in the China-US trade talks supported prices. Brent crude was down 0.5 percent at $61.7 a barrel having gained more than 4 percent last week, its best weekly gain since 20 September. Meanwhile, West Texas Intermediate crude dropped 0.6 percent at $56.33 a barrel, after rising more than 5 percent last week, also the biggest weekly increase since 20 September. US energy companies reduced the number of oil rigs operating this week, leading to a record 11-month decline as producers follow through on plans to cut spending on new drilling. The Energy Information Administration (EIA) said on Wednesday that US crude oil stockpiles soared last week amid higher imports and a release from national reserves.
Gold
Gold prices were steady on Tuesday after a sharp fall in the previous session, as markets awaited the US Federal Reserve's rate decision. Meanwhile, optimism over a US-China trade deal boosted demand for riskier assets. Thursday saw gold prices rising as the US dollar weakened after the Federal Reserve cut interest rates for the third time this year, but indicated that the monetary-policy easing cycle would be paused. Prices of spot gold have risen nearly 2 percent this month.
Malta: Unemployment Rate September 2019
In September 2019, the seasonally adjusted monthly unemployment rate was 3.4 percent. This was at par with the previous month and down from 3.6 per cent when compared to September 2018. The seasonally adjusted rate for males was 3.3 percent with the unemployed males as the major contributor to the overall unemployment. Meanwhile, the seasonally adjusted rate for persons aged 15 to 24 years was 9.3 percent while the rate for the 25 to 74 age group stood at 2.7 percent.
'The information provided on this website is being provided solely for educational and informational purposes and should not be constituted as investment advice, advice concerning investments or investment decisions, or tax or legal advice. Similarly, any views or options expressed on this website are not intended and should not be construed as being investment, tax or legal advice or recommendations. Investment advice should always be based on the circumstances of the person whom it is directed, which circumstances have not been taken into consideration by the persons expressing the views or opinions appearing on this website. Timberland Securities Investment plc has not verified and consequently neither warrants the accuracy nor the veracity of any information, views or opinions appearing on this website. You should always take professional investment advice in connection with, or independently research and verify, any information that you find or views or opinions which you read on our website and wish to rely upon, whether for the purpose of making and an investment decision or otherwise. Timberland Securities Investment plc does not accept liability for losses suffered by persons as a result of information, views of opinions appearing on this website. This website is owned and operated by Timberland Securities Investment plc (reg. No. C68856) of Aragon House Business Centre, Dragonara Road, St Julian's STJ 3140.'